Try A Trade
As the name suggests, this Try A Trade program literally gives you the opportunity to try a trade.
It is important to think and prepare for career development before you finish school. We understand how overwhelming it can be to pick a career after school without fully understanding the different career pathways available. For students who are interested in working in construction, our Try A Trade program offers insight into the construction industry and gives participants the opportunity to try their hand in carpentry and bricklaying.
As part of this offering, our team offers a number options that allow your students experience a day learning from an experienced trainer, allowing them to see what life on a work site is actually like. Try A Trade can be delivered onsite at your school or at our purpose built facilities. Speak to your VET coordinator to arrange participation.
Through the Try A Trade program, students get exposure to fun, hands-on and practical activities that are designed to excite their minds and help them consider a career in construction!
If you're a VET coordinator or teacher get in touch with our training team!
Get your white Card
with Try-A-Trade
As an addition to our three day try-a-trade course, students are able to spend a day in our workshop working toward their white card. A white card is the key that every tradeperson has before entering a work site.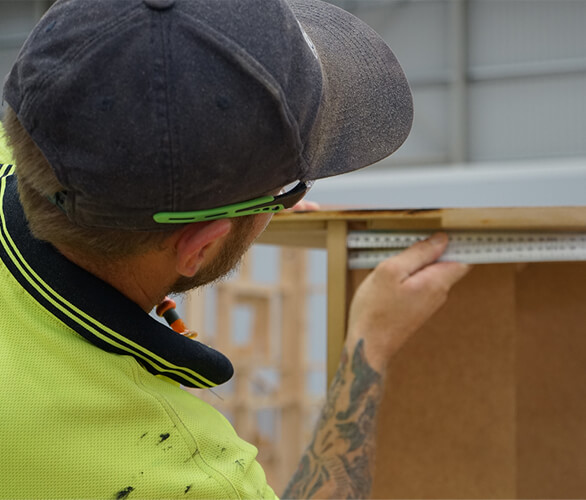 Frequently Asked Questions (FAQs)
Who Is Try A Trade For?
The Try A Trade program is designed for secondary school students in Year 9 and 10
What Is the Purpose of Try A Trade?
This program is designed to give students a taste of their chosen trade, allowing them to gain an insight to the construction industry.
Where Are They Held?
Try A Trade is delivered at Forrestfield, Joondalup and Eaton Community College.
How Much Does It Cost?
If the Try A Trade program is delivered at Skill Hire's purpose built facilities in Forrestfield, there is no cost to the school. 
If the program is delivered at the school, a trainer will visit the school and provide a quote for materials based on the agreed project.
Who Is the Program Funded By?
This program is funded by the Construction Training Fund (CTF).
What Specialist Trade Areas Does Skill Hire Offer?
Skill Hire offers carpentry and bricklaying trades as part of the Try A Trade program. 
How Long Does it Go For?
The duration it takes to complete the Try A Trade program varies from 3 to 4 days depending on whether students opt to complete White Card training.
When Are the Programs Offered?
Try A Trade programs are held from March to November each year.
Who Delivers the Program?
Try A Trade programs are delivered by Skill Hire's fully qualified and experienced trainers who are trade specialists in carpentry and bricklaying / blocklaying. 
When Should I Make a Booking?
Try A Trade programs are so popular that Skill Hire takes bookings up to 12 months in advance! We recommend calling the Training Division on 9376 2800 to make a booking as soon as possible, or checking out Construction Futures Try-A-Trade page. 
K
Skill Hire really helped me to see that I can accomplish something if I set my mind to it and I completed my course 2 months prior to the completion date. Cheers guys!
M
Skill Hire are helpful and professional. Nicola was attentive to all my needs. Their timesheets systems were a breeze and always update us with messages. Thanks Skill Hire
S
I just wanted to thank Skill Hire's EST Trainers. Nathan is the absolute best trainer I've ever had privilege to meet by a WIDE margin and I appreciate everything done for all of us. I'm ecstatic about the internship opportunity.
G
Not only did Skill Hire respond quickly to our urgent need, your team took the time to understand our organization and our needs. The people sent to help out were outstanding and their ability to rapidly adapt to our workplace eased our burden during what was a very challenging few months.
P
My son has thoroughly enjoyed the Construction Pathways course. He spent the last 18 months being home schooled and not socializing with anyone so to see him eager to get up and leave the house every day still blows my mind. Simon, thank you for your understanding and taking extra care with my son.
J
I wanted to say a big thank you to Skill Hire and the team, especially Wayne for such an amazing experience for our students. All of our students were thoroughly engaged with the course and learned many valuable skills.