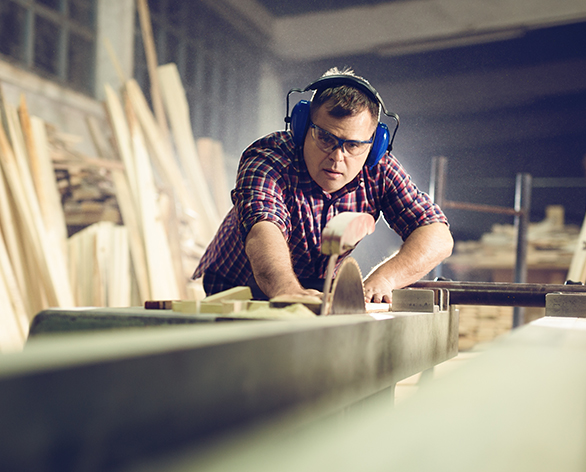 There are quite a lot of myths and misconceptions around Vocational Education and Training (VET) which has resulted in students growing up thinking that going to university is the only way they can make it big in life. In this article, we are going to decode and bust 5 of these myths and misconceptions so that you can make informed decisions based on facts.
Myth 1: VET is for people who want to do trade work
There is a misconception that VET is just for trades but this couldn't be further from the truth. You may already know that apprenticeships and traineeships are available in trades like carpentry, bricklaying, welding but did you know that vocational qualifications are also available in areas like business, graphic design, horticulture, fashion design and web development? In fact, there are over 500 vocations to choose from so choice is something you will never be limited on. While some courses are offered both at the vocational level and university level, you will benefit from the hands-on experience gained through vocational training.
Myth 2: VET graduates earn low wages
Let's be honest. This is the part you have been waiting for. 1 in 5 Australians believe that a University degree will lead to a better paying job. However, those who graduate from a VET course earn more than university graduates. This doesn't mean you should not pursue university or drop out if you are already enrolled. It just means VET graduates have just as much a good chance if not better as university students when it comes to earning a high salary. Let us give you a few examples. The median full-time salary of a student who graduates from a VET course is $56,000 a year while a university graduate with a Bachelor's degree earns $54,000 a year.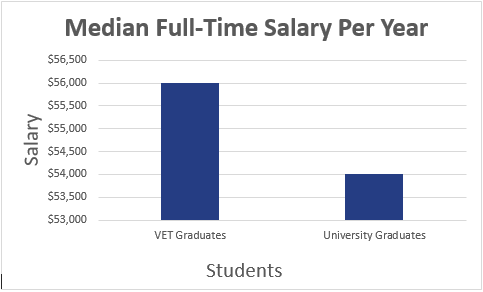 Similarly, the highest earning salary for a VET qualification is $85,400 for a Certificate IV in Hazardous Areas – Electrical while the highest starting salary for a degree holder is $80,000 for Bachelor of Dentistry.
While on the topic of money, VET graduates start earning well before degree holders. VET qualifications take anywhere between 6 months to 2 years while a university qualification takes 3 to 5 years giving VET graduates to enter the workforce and reap the benefits sooner.
Myth 3: VET graduates are not employed quickly
This is another misconception. In fact, in Australia, 78% of those who complete a VET course find employment immediately after completing their training. 82% of VET graduates who complete an apprenticeship or traineeship are employed after training. On the other hand, 69% of university graduates with a Bachelor's degree are employed after completing their qualifications. The reason for this disparity comes down to the course structure. Since VET qualifications emphasise gaining practical skills, VET graduates and apprentices will have the necessary skills to perform real life tasks thus, making them more attractive to employers. On the other hand, most university students need to complete an internship or volunteer to gain experience and practical skills.
Myth 4: VET teaching staff are not as good as those at universities
We have to admit that this myth came as a surprise even to us but to clarify, teachers of VET courses are required to have formal qualifications to be able to teach and also be qualified in the relevant profession. Most teachers of VET courses have years of industry experience under their belt or work in the industry simultaneously while teaching. So, rest assured, teachers of VET courses are just as qualified and apt for the job as university teaching staff.
Myth 5: VET is a 'thing of the past'
Many Australians believe that VET courses are no longer relevant in the global competitive market as university degrees are. VET delivers new qualifications in fast growing industries such as biotechnology, cyber security, robotic engineering and counter terrorism and intelligence. VET currently provides training courses for 9 out of 10 future professions that are predicted to have the highest growth. So, don't let anyone fool you into thinking that VET is a thing of the past.
Historically, university qualifications are usually seen as more prestigious than VET qualifications. However, times are changing with employers placing more value on the practical capabilities of their employees rather than which qualifications they have got or which university they have attended. Now that we have busted the common myths and misconceptions about Vocational Education & Training, it is time to make an informed decision about your career choices.
To learn more about apprenticeships and choosing where to specialise, click here or speak to a consultant at 9376 2800.
K
Skill Hire really helped me to see that I can accomplish something if I set my mind to it and I completed my course 2 months prior to the completion date. Cheers guys!
M
Skill Hire are helpful and professional. Nicola was attentive to all my needs. Their timesheets systems were a breeze and always update us with messages. Thanks Skill Hire
S
I just wanted to thank Skill Hire's EST Trainers. Nathan is the absolute best trainer I've ever had privilege to meet by a WIDE margin and I appreciate everything done for all of us. I'm ecstatic about the internship opportunity.
G
Not only did Skill Hire respond quickly to our urgent need, your team took the time to understand our organization and our needs. The people sent to help out were outstanding and their ability to rapidly adapt to our workplace eased our burden during what was a very challenging few months.
P
My son has thoroughly enjoyed the Construction Pathways course. He spent the last 18 months being home schooled and not socializing with anyone so to see him eager to get up and leave the house every day still blows my mind. Simon, thank you for your understanding and taking extra care with my son.
J
I wanted to say a big thank you to Skill Hire and the team, especially Wayne for such an amazing experience for our students. All of our students were thoroughly engaged with the course and learned many valuable skills.