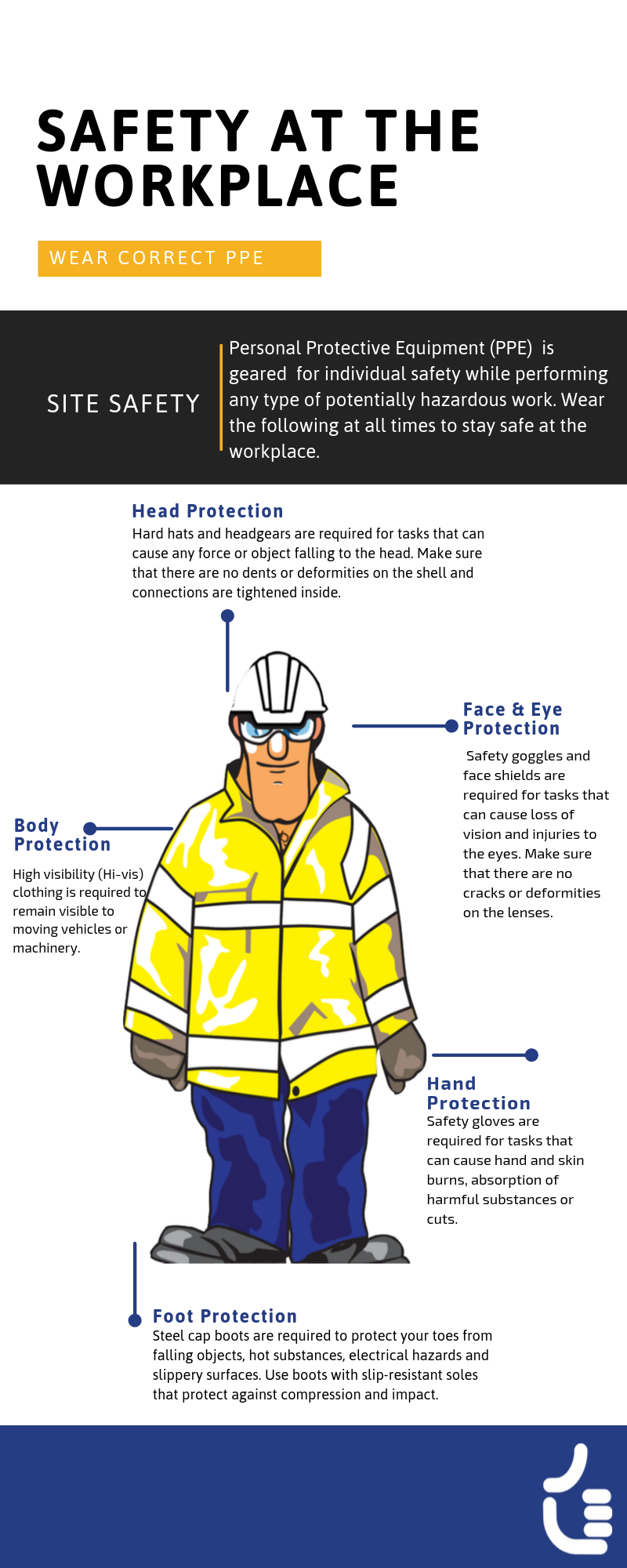 It may seem obvious that staying safe at the workplace is important yet you will be surprised to know how many injuries have occurred at work sites around Australia over the last decade due to workers not wearing the correct safety equipment.  Personal Protective Equipment (PPE) is clothing or equipment designed to be worn to protect yourself from the risk of hazards, injury or illness when on a worksite. As per the Hierarchy of Control measures, PPE should only be considered as a last line of deference between a hazard and the worker. Always attempt to control workplace risks and hazards first. However, we understand that it is not possible to eliminate all the risks associated with most tasks so it is necessary to understand the importance of PPE.
In this article, we will give you the run down on everything you need to know about PPE so that you are safe at your work site at all times.
Basic Types of PPE
There are different types of PPE available that can be used depending on the type of job you perform or the type of hazards associated with the job tasks. Generally speaking, PPE provides protection against physical, chemical, mechanical, radiological and electrical hazards.
HEAD PROTECTION
Head protection using a hard hat is required when performing hazardous work that can cause any force or object falling to the head. Make sure to perform safety checks regularly on all components of the gear such as the shell, harness, headband and accessories to identify any dents, cracks, penetration or other damage caused by impact, rough treatment or unauthorized alterations that may have reduced the degree of safety it originally provided. It is worth noting that hard hats and safety helmets have a use by date and that they must be replaced if damaged regardless of how old or how new they are.
HEARING PROTECTION
Hearing protection such as earmuffs, earplugs (disposable or individually molded) or ear canal caps are needed for tasks that can cause hearing problems or permanent loss of hearing. All ear protection PPE must comply with Australian Standards. It is imperative to understand what sound level in decibels are permissible – your workplace will tell you what level of hearing PPE you must use to perform your job duties. Remember, the protection level needed is not a guessing game. It is also worth noting that different workers can require different levels of hearing protection so never go by what your co-workers are wearing. When checking for hearing safety, ensure that the device fits your ear canal properly.
FACE AND EYE PROTECTION
Appropriate face and eye protection such as safety glasses, goggles and face shields must be used to protect against the hazards associated with flying particles, motel metal, liquid chemicals, acids and caustic liquids, chemical gases and vapors or potentially injurious light radiation that can cause loss of vision or burns. When checking your face and eye protection equipment for safety, make sure that there are no cracks or deformities on the lenses, the straps are in proper working order and they are firmly sealed to the cheek and forehead.
BODY PROTECTION
Body protection PPE includes safety vests and suits that are required for tasks that can potentially cause body injuries from extreme temperatures, flames and sparks, toxic chemicals, insect bites and radiation. Furthermore, high visibility (commonly known as 'hi-vis') clothing must be worn on site to ensure you are visible to moving vehicles and machinery. While all hi-vis gear may look the same, be aware of non-compliant gear that are unsafe to use. When shopping for hi-vis clothing, you must choose the right clothing for the type of work you will be doing and at what time of the day you will be performing the tasks.
High visibility garments must be worn depending on the type of work you are required to perform and at what time of the day it is performed. For example, Class D garments classified in the Australian Standard of High Visibility Safety Garments can be worn only during the day whereas Class N garments are designed for darker environments as they can be seen under retroreflective light such as vehicle headlights. Regardless of which body protection gear are needed for your job, ensure that they are clean and free from cuts and burns when performing safety checks. Also ensure that they fit properly to your body.
HAND PROTECTION
Safety gloves should be used to protect your hands from potential skin burns, absorption of harmful substances, cuts or fractures. Once again, there are different types of hand protection available so it really depends on the nature of the task required to be performed at the work site. For instance, leather, canvas or metal mesh gloves are suitable for protecting your hands from severe cuts, punctures, abrasions or lacerations. On the other hands, aramid fiber gloves provide the best hand protection against chemical and thermal burns. When checking your hand protection equipment for safety purposes, ensure they do not have cuts, burns or chemical residue – if they do, replace them immediately. It is also a good idea to ensure your hand protection fit your hands perfectly and that they are neither too big nor too small.
FOOT PROTECTION
Foot protection such as safety boots and knee guards are used to protect oneself from foot or leg injuries from falling or rolling objects, hot substances, electrical hazards and slippery surfaces. As with all types of PPE, footwear must comply with Australian Standards. We strongly advise you to not compromise on safety by opting for cheap and low quality footwear. There are specially designed safety boots in the market for a wide range of jobs so it is imperative that you choose the right pair for your job. For example, steel top cap boots are designed to protect your toes from falling objects and large amount of pressure. On the other hand, if your job exposes you to electricity, circuits wiring and high voltage machines and devices, you will need a pair of electrical hazard shoes. These shoes have a specially made sole that helps reduce the chances of being electrocuted when exposed to a high voltage electricity.
Staying safe in the workplace is not only the responsibility of your employer but also yourself. Therefore, we cannot stress how important it is to ensure you wear the correct PPE by factoring in the type of task you will be performing and the work environment. Practicing site safety will prevent you from being another statistic.
At Skill Hire, all of our training is industry ready with safety at the forefront of our minds. To learn more about Skill Hire and our training courses, please visit www.skillhire.com.au or speak to one of our consultants at 9376 2800.
K
Skill Hire really helped me to see that I can accomplish something if I set my mind to it and I completed my course 2 months prior to the completion date. Cheers guys!
M
Skill Hire are helpful and professional. Nicola was attentive to all my needs. Their timesheets systems were a breeze and always update us with messages. Thanks Skill Hire
S
I just wanted to thank Skill Hire's EST Trainers. Nathan is the absolute best trainer I've ever had privilege to meet by a WIDE margin and I appreciate everything done for all of us. I'm ecstatic about the internship opportunity.
G
Not only did Skill Hire respond quickly to our urgent need, your team took the time to understand our organization and our needs. The people sent to help out were outstanding and their ability to rapidly adapt to our workplace eased our burden during what was a very challenging few months.
P
My son has thoroughly enjoyed the Construction Pathways course. He spent the last 18 months being home schooled and not socializing with anyone so to see him eager to get up and leave the house every day still blows my mind. Simon, thank you for your understanding and taking extra care with my son.
J
I wanted to say a big thank you to Skill Hire and the team, especially Wayne for such an amazing experience for our students. All of our students were thoroughly engaged with the course and learned many valuable skills.