Embracing an activity with humour whilst building interest in the topic was important last month in Indulkana, when our team explored how to prove to wattis (men) that they're as good at cooking and helping out in the kitchen as kungkas (women). To encourage laughter and keep participants motivated, in a fairly safe environment our supervisors set up a cook off between the two groups, W (wattis) Team and K (kungkas) Team.
We turned one of our sheds into two separate kitchens and began the sizzling competition. The W Team started their cottage pie early as they knew it would take a little longer to cook. First the W Team took the time to read the recipe out aloud so they could wrap their heads around what they needed to do, then they could allocate tasks to each team member. They set off and had all their vegetables peeled and chopped before the K Team had even started.
The K Team tried to take a sneaky approach by using a local meat that they all enjoy regularly to make a malu (kangaroo) curry. They also read the recipe out loud, divied up the tasks and proceeded to cook.
The W Team all took turns stiring the pots to ensure that the food did not burn as well as all taking turns bantering with the K Team to try to put them off their game.
The K Team were not afraid of what the W Team were saying and fired off there rebuttals. As the amazing smells filled the shed we knew that it was going to be a tight race.
The W Team mashed the spuds and with fine form they scooped the mince and vegetables into a baking dish carefully placing the mashed potatoes on top then giving it a sprinkling of cheese. As they walked into the K Team area to place their cottage pie in the oven the W Team thought they could finally see the fear in the K Team's eyes as they knew that defeat was imminent. The W Team took a quick glance at the amazing malu curry that the K Team were cooking and knew it was going to be a close race.
When both meals were ready each team member was served a portion of each meal on their plates whilst they all sat together to eat. You could tell it was going to be a very close battle as not a single word was heard from any competitor. Upon completion of the meal a vote was held.
The numbers came in and both teams had to admit that each dish was very tasty but there could be only one winner……….(drum roll)
And the winner of the very first
"Great Indulkana Cook Off"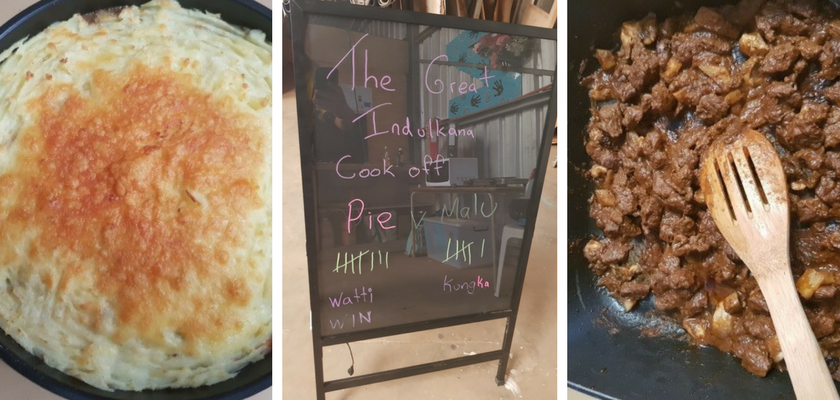 …..the W TEAM
by only two votes.
As we reflected on this activity we thought about the skills involved
team work
kitchen safety
following a recipe
competitive spirit
The W Team got bragging rights as they took out the first ever GREAT INDULKANA COOK OFF!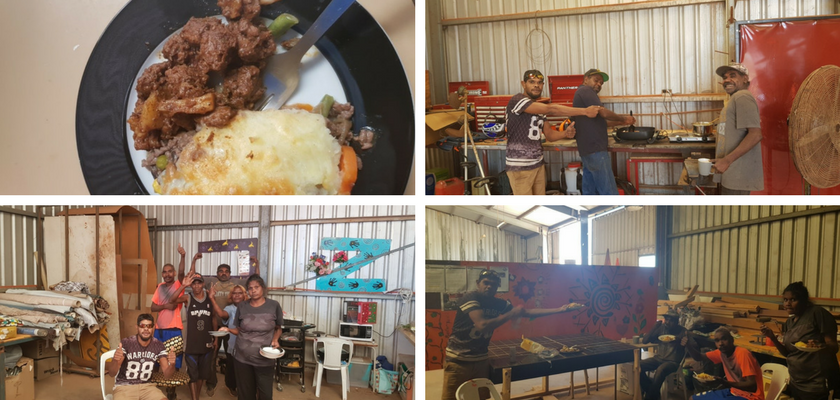 K
Skill Hire really helped me to see that I can accomplish something if I set my mind to it and I completed my course 2 months prior to the completion date. Cheers guys!
M
Skill Hire are helpful and professional. Nicola was attentive to all my needs. Their timesheets systems were a breeze and always update us with messages. Thanks Skill Hire
S
I just wanted to thank Skill Hire's EST Trainers. Nathan is the absolute best trainer I've ever had privilege to meet by a WIDE margin and I appreciate everything done for all of us. I'm ecstatic about the internship opportunity.
G
Not only did Skill Hire respond quickly to our urgent need, your team took the time to understand our organization and our needs. The people sent to help out were outstanding and their ability to rapidly adapt to our workplace eased our burden during what was a very challenging few months.
P
My son has thoroughly enjoyed the Construction Pathways course. He spent the last 18 months being home schooled and not socializing with anyone so to see him eager to get up and leave the house every day still blows my mind. Simon, thank you for your understanding and taking extra care with my son.
J
I wanted to say a big thank you to Skill Hire and the team, especially Wayne for such an amazing experience for our students. All of our students were thoroughly engaged with the course and learned many valuable skills.