When we heard about concerns from our fellow service providers on the APY Lands, we jumped into heavy machinery to help out.
Having CDP participants close by in Ernabella who can operate heavy machinery meant they could take part in the clean up required at Young's Well Homeland. This operation of clearing buffalo grass and trees within the compound area and also clearing grass around the outskirts of the fence line was intended to avert a fire hazard. Our participants really enjoyed jumping on the machines and learning even more skills than they already had attained previously. The participants expressed extreme interest in doing activities like this job more often.
Important skills involved:
Basic bucket techniques
Back blading
Creating piles to load on to the tipper truck
Loading vegetation and top soil on to the tipper truck
This job was requested by a fellow service provider – Money Mob. This overgrown area was a concern due to buffalo grass growing out of control with the worry that it may eventually catch on fire which would be a risk to Money Mob staff.
This job was scheduled to take four days to complete, but because the local participants were able to pick up the machinery operating so quickly, working so well as a team, it was completed in three days.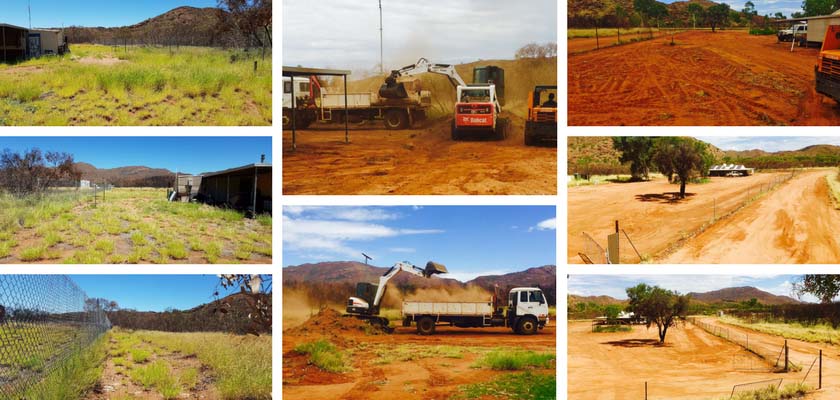 K
Skill Hire really helped me to see that I can accomplish something if I set my mind to it and I completed my course 2 months prior to the completion date. Cheers guys!
M
Skill Hire are helpful and professional. Nicola was attentive to all my needs. Their timesheets systems were a breeze and always update us with messages. Thanks Skill Hire
S
I just wanted to thank Skill Hire's EST Trainers. Nathan is the absolute best trainer I've ever had privilege to meet by a WIDE margin and I appreciate everything done for all of us. I'm ecstatic about the internship opportunity.
G
Not only did Skill Hire respond quickly to our urgent need, your team took the time to understand our organization and our needs. The people sent to help out were outstanding and their ability to rapidly adapt to our workplace eased our burden during what was a very challenging few months.
P
My son has thoroughly enjoyed the Construction Pathways course. He spent the last 18 months being home schooled and not socializing with anyone so to see him eager to get up and leave the house every day still blows my mind. Simon, thank you for your understanding and taking extra care with my son.
J
I wanted to say a big thank you to Skill Hire and the team, especially Wayne for such an amazing experience for our students. All of our students were thoroughly engaged with the course and learned many valuable skills.