We sat down to chat to Skill Hire's very own recruitment specialist Sarah 'Higgy' Higginson and her coach 'Big Rig' about her preparation for a shot at the Light Fly Weight boxing title and the importance of her support network or, as she likes to call it, her 'extended family'.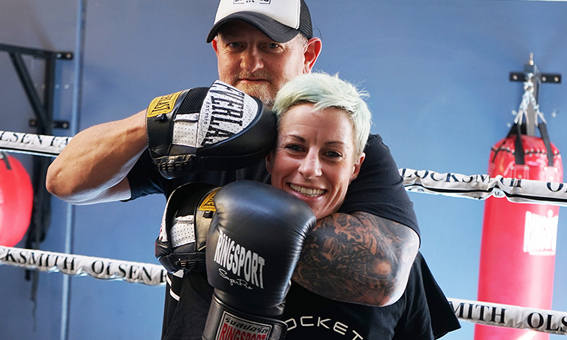 With a little support from Skill Hire sponsorship and her coach 'Big Rig' by her side and family and friends, Higgy has achieved huge things in the male dominated sport of boxing and continues to inspire as she reaches toward her next goal.
Higgy has her sight set on becoming the Light Fly Weight Boxing Champion at the end of this year when she will compete at the upcoming Thunderdome Boxing Series at Metro City in Perth on Friday, December 3 against South Australian boxer, Bec Moss.
Coach 'Big Rig' Dayle Phillips said that when it comes to the fight, they're not leaving anything to chance.
"We're going there to win at all costs," he said.
"Higgy is training six days a week, morning and night.
"During that time, we cover all aspects of boxing so she can perform at one hundred percent."
"We have four weeks of training left," Big Rig said.
During the last week of training all the hard work will be done, and she will start winding down.
There will be some media commitments, rest and recovery, weigh in and then the fight."
In order to complete, Higgy needs to weigh in at 49.5kg.
"This is a fight not to be missed, she will do Western Australia proud," he said.
"I'm really looking forward to her performing and coming away with a win.
"After that, I'm going to give her a well-deserved rest, because we've fought all year."
Higgy has won three belts already this year, the WA State Title, A.N.B.F Australian Super Flyweight Title and the A.N.B.F Australasian Bantamweight Title.
"She's going from her last fight at 53kg to this one at 49."
Big Rig said they're starting to find it hard to get opponents due to Covid.
"That's why we decided to drop down a couple of divisions and have a crack at another opponent," he said.
Big Rig said he wanted to thank Higgy for her hard work and dedication.
"As a coach, I expect a lot.
"She goes through hell and puts up with a lot from me."
Higgy said she is looking forward to the fight and is confident she'll come away with the win.
"I have trained hard all year," she said.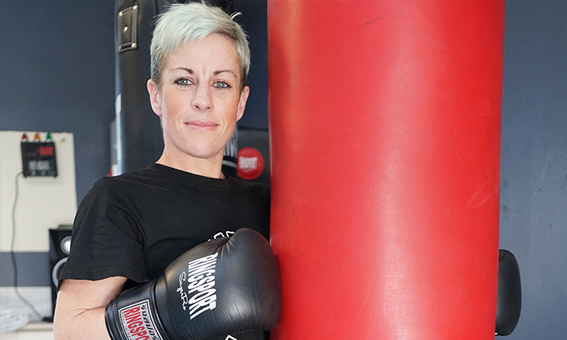 "But I couldn't have done it without Big Rig and the support from the gym."
Higgy said she'd like to thank Skill Hire supporting her journey.
"Without their help, my dreams of becoming a belt holder wouldn't have come true.
"They've made it possible for me to compete at a national level."
CEO Shawn Murphy said Skill Hire is proud to support Higgy's boxing journey.
"We're a huge advocate when it comes to encouraging people to pursue their dreams and we're extremely proud to support one of our own," Mr Murphy said.
"We can see every day the type of commitment it takes, with lunch time runs and daily grueling training sessions and will be cheering her on every step of the way.
"Skill Hire is dedicated to empowering people to be their very best, and we're stoked to support Higgy."
K
Skill Hire really helped me to see that I can accomplish something if I set my mind to it and I completed my course 2 months prior to the completion date. Cheers guys!
M
Skill Hire are helpful and professional. Nicola was attentive to all my needs. Their timesheets systems were a breeze and always update us with messages. Thanks Skill Hire
S
I just wanted to thank Skill Hire's EST Trainers. Nathan is the absolute best trainer I've ever had privilege to meet by a WIDE margin and I appreciate everything done for all of us. I'm ecstatic about the internship opportunity.
G
Not only did Skill Hire respond quickly to our urgent need, your team took the time to understand our organization and our needs. The people sent to help out were outstanding and their ability to rapidly adapt to our workplace eased our burden during what was a very challenging few months.
P
My son has thoroughly enjoyed the Construction Pathways course. He spent the last 18 months being home schooled and not socializing with anyone so to see him eager to get up and leave the house every day still blows my mind. Simon, thank you for your understanding and taking extra care with my son.
J
I wanted to say a big thank you to Skill Hire and the team, especially Wayne for such an amazing experience for our students. All of our students were thoroughly engaged with the course and learned many valuable skills.