Famously known as the Pocket Rocket, Sarah decided to lose weight after losing her father to diabetes.
"I was a happy 119 kg girl, but I could see myself diagnosed with diabetes if I did not do anything," Sarah said
She joined the gym and started boxing to lose weight.
Boxing was an outlet for her to unwind after a hard day and lose weight.
But it quickly became her passion.
She trained twice a day and sparred at the gym.
And in just 11 months, she lost a whopping 65 kilos!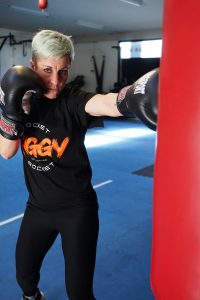 She was not only enjoying boxing but was getting good at it as well.
With the support of her then coach, she decided to launch her career in boxing.
She had her first amateur fight in the 54-kilo division in 2017 and knocked out her very first opponent.
She then lost 6 more kilos to represent WA at the nationals in the amateur's competition at 48 kilos and was runner up.
In 2020 she moved to the Big Rig umbrella (her current coach) and got her first pro fight, which she drew.
In over 2 years, she has fought 14 amateur fights and won the WA state title and Australian title belt.
She also won the Australasian title fight. This prestigious title allows her to fight pro fighters from different countries and states.
Higgy is now preparing for the World Boxing Association's light flyweight fight in September 2022.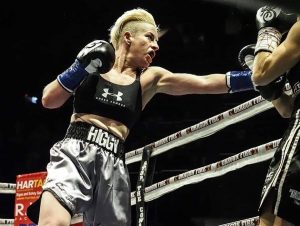 It's the very first time this fight will be held for the 48-kilo division and is taking place here in WA.
"I am excited to take a fight in my hometown," she said
Winning this fight would mean a secured spot in the top ten world boxing rankings.
The journey has been huge, and she is an inspiration to everyone, especially women.
"I would encourage girls to do what you want to do and stick by what you decide," Sarah said
Skill Hire is proud to support Sarah as she progresses in her boxing career.
"Since my dad is not around, every time I get an offer for a fight, I will call Shawn (Skill Hire MD) or go to the Skill Hire labour-hire team for personal support. Skill Hire is my family, and their opinion matters to me a lot," Sarah said.
K
Skill Hire really helped me to see that I can accomplish something if I set my mind to it and I completed my course 2 months prior to the completion date. Cheers guys!
M
Skill Hire are helpful and professional. Nicola was attentive to all my needs. Their timesheets systems were a breeze and always update us with messages. Thanks Skill Hire
S
I just wanted to thank Skill Hire's EST Trainers. Nathan is the absolute best trainer I've ever had privilege to meet by a WIDE margin and I appreciate everything done for all of us. I'm ecstatic about the internship opportunity.
G
Not only did Skill Hire respond quickly to our urgent need, your team took the time to understand our organization and our needs. The people sent to help out were outstanding and their ability to rapidly adapt to our workplace eased our burden during what was a very challenging few months.
P
My son has thoroughly enjoyed the Construction Pathways course. He spent the last 18 months being home schooled and not socializing with anyone so to see him eager to get up and leave the house every day still blows my mind. Simon, thank you for your understanding and taking extra care with my son.
J
I wanted to say a big thank you to Skill Hire and the team, especially Wayne for such an amazing experience for our students. All of our students were thoroughly engaged with the course and learned many valuable skills.