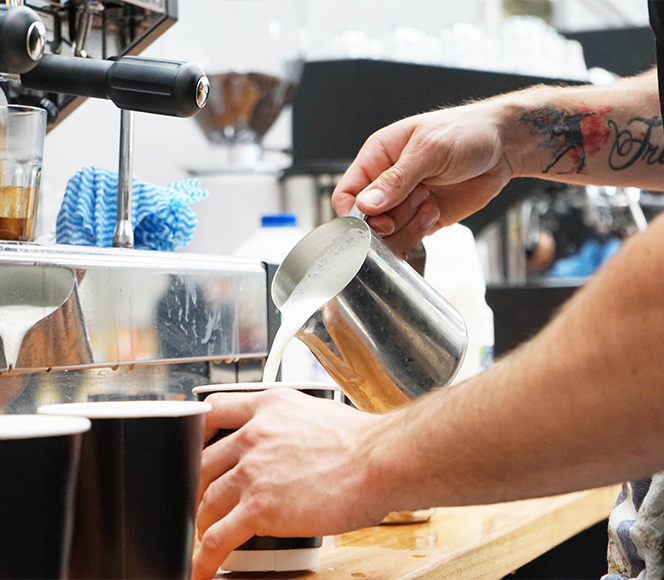 If there is anything Australians love more than AFL, it is coffee. Coffee is the nation's psychoactive drug that regulates our energy, mood and overall productivity levels. Our obsession with coffee is so strong that three out of every four Australians drink at least one cup of coffee each day. Now, that's a lot of coffee! No wonder there are coffee shops popping up at every street corner wanting to capitalize on Australia's voracious appetite for coffee.
If you are dreaming of working as a barista but have no experience, it can be quite difficult to find a job in this field. Most barista job advertisements require a minimum of 2 years of experience. Australian consumers are very picky when it comes to their coffee because there is no shortage of coffee shops in the country. Business owners are extra careful when it comes to hiring because the taste of a cup of coffee can make or break their business.
So, how can you get a job as a barista without any experience?
Enroll in an Accredited Barista Training Course
If there is one thing and one thing only that you do, that is to enroll in an Accredited Barista Training course. Trust us, having a recognized qualification in your resume speaks volumes about your skills and more than make up for your lack of experience. Skill Hire's Accredited Barista Training course will teach you how to:
Operate all coffee machines
Prepare and serve espresso coffee
Foam milk correctly
Use and set a coffee grinder
Clean and maintain a coffee machine
How to create latter art such as leaves, hearts, flowers
Serve customers and develop your customer service skills
Use hygienic practices for food safety
For more information about our Accredited Barista Training course or view upcoming course dates at our Perth and Bunbury sites, please click here or speak to a consultant at 08 9376 2800.
Seek More Knowledge
In today's day and age, information is literally at your fingertips. While you wait for the perfect job opportunity to come your way, use that time to educate yourself in everything you need to know about coffee and coffee making. You should learn to tell the difference between a Latte Macchiato and a Flat White or Arabica coffee beans from Robusta coffee beans. Moreover, take advantage of free information sources such as YouTube to learn how to make a perfect cup of coffee. If you are truly committed to honing the skills learnt in your Accredited Barista Training course, consider investing in an espresso coffee machine that would allow you to practice at home. There is no need to splurge several hundred dollars on an expensive machine. You can find a cheap second hand machine from your local thrift store or online marketplaces. Practice making different cups of coffee for your friends and family according to their taste preferences. They will be thrilled to be your guinea pigs – nobody is going to say no to a free cup of coffee.
Go Door to Door
Once you know the basics of coffee making and have a recognized qualification under your belt, it's time to hit the shops. Sure, you can easily apply for barista jobs online without having to visit any cafés. However, based on the feedback we received from students who completed our Accredited Barista Training course, you are likely to have better luck in gaining employment as a barista by handing your resume to employers face-to-face and introducing yourself. Here are some common qualities that employers look for when hiring a barista:
Passion
Attention to detail
Customer service skills
Ability to work as a team player
Reliability
There is no shortage of barista jobs in Western Australia but there is a shortage of baristas with qualifications. The best way to ensure you stand out from the competition is to complete an Accredited Barista Training course with a Registered Training Organization (RTO). Skill Hire is a RTO with a purpose built training café that gives course participants with hands on experience in learning how to make coffees and work in a café environment. To learn more about Skill Hire, please visit www.skillhire.com.au or give us a call on (08) 9376 2800.
K
Skill Hire really helped me to see that I can accomplish something if I set my mind to it and I completed my course 2 months prior to the completion date. Cheers guys!
M
Skill Hire are helpful and professional. Nicola was attentive to all my needs. Their timesheets systems were a breeze and always update us with messages. Thanks Skill Hire
S
I just wanted to thank Skill Hire's EST Trainers. Nathan is the absolute best trainer I've ever had privilege to meet by a WIDE margin and I appreciate everything done for all of us. I'm ecstatic about the internship opportunity.
G
Not only did Skill Hire respond quickly to our urgent need, your team took the time to understand our organization and our needs. The people sent to help out were outstanding and their ability to rapidly adapt to our workplace eased our burden during what was a very challenging few months.
P
My son has thoroughly enjoyed the Construction Pathways course. He spent the last 18 months being home schooled and not socializing with anyone so to see him eager to get up and leave the house every day still blows my mind. Simon, thank you for your understanding and taking extra care with my son.
J
I wanted to say a big thank you to Skill Hire and the team, especially Wayne for such an amazing experience for our students. All of our students were thoroughly engaged with the course and learned many valuable skills.