Traffic controllers are currently in high demand in Perth and Australia. We're offering training required to gain tickets to become a Traffic Controller, with the added bonus of a work placement at the end! Job placements are available in depots across metropolitan and regional areas.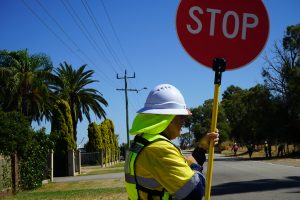 What is the role of Traffic Controller?
Manage the flow of traffic through a worksite
Set up, maintain and pull-down road signs and devices
Control traffic with a stop/slow bat
Minimise the impacts the works are having on the road network and help keep road users and workers safe
We offer rolling intakes, meaning you can enrol anytime you want to become a traffic controller.
Do I need any experience?
You can get started in this area with a little training and don't necessarily need any experience – just a good attitude and the ability to work flexibly. You do need basic training to work on an infrastructure / building site however, so as well as being physically fit, make sure you are:
At least 18 years of age
Have (or have held) a valid driver's licence
Able to speak, understand, read and write in the English language
You will also need your White Card.
What does it pay and can I do part time?
According to the Australian Government Jobs Outlook website over 50% of people working in this industry work part time. There is a good mix of women, mean and different aged traffic controllers who are attracted to the flexibility of this work.
$1,224 is the median earnings weekly pay for full-time labourers at the adult rate, before tax.
Some other key statistics include:
10,300 workers in the industry in 2016
48% are full-time
45 hours is the average full-time hours
45 years is the average age of workers
24% are female
Check out more Job Outlook stats here.
What is a White Card and why do I need one?
A White Card is a mandatory work card (also known as a General Construction Card) that you must have in Australia to work on a construction site. The White Card is a pre-requisite for working on all types of building and construction sites including road works and is also needed before you consider completing the traffic control training course.
I don't have a White Card so how do I get one?
If you don't have a White Card, you can get one by completing a face-to-face or online course through a registered training organisation. The unit of competency required is CPCCWHS1001 – Prepare to work safely in the construction industry. Supervisors, site managers and people who routinely enter construction sites must have a White Card.
Skill Hire offers White Card training. You can complete this quickly and affordably online. You can enrol now in Perth or Bunbury with Nara Training and Assessing – Get your White Card now
Please note that White Cards become void if no construction work has been carried out over two consecutive years or more so if you have one, make sure it is still valid.
I fit the bill, so where can I train to do the traffic control management course?
Once you have all the pre-requisites above, the next thing you need to do to is check out and enrol in the traffic control course that we offer here at Nara by Skill Hire. The three-day accredited training course is a combination of in-class and practical training that will get you working straight away. The training will cover things like:
Basic signaling, traffic controlling and radio operations
Communication and the importance of relaying information to co-workers
Understanding and implementing traffic plans
All participants are required to wear appropriate work attire.
How much does the training cost?
The course attracts a one off fee, however, up to 80% of the course may be subsidised through the Construction Training Fund (CTF).
CTF provides support for training of eligible businesses and employees in the construction industry. To find out if you can get the subsidy, please chat to us about it when you enrol.
If you are on a pre-employment program, you can also ask about pursuing traffic control work.
Learn more about traffic management training course or enrol now through Nara by Skill Hire.

What happens once I have completed the course?
Upon successful completion of the course, you will receive Main Roads WA accreditation and a Statement of Attainment with the following units of competency:
RIIWHS201D Work safely and follow WHS
RIICOM201D Communicate in the workplace
RIIWHS302D Implement traffic management plan
Main Roads WA requires that anyone wanting to undertake an event or conduct work that may impact on traffic to hold a relevant and current traffic control management certificate of accreditation which can be gained through Nara by Skill Hire.
How do I find a job as a traffic control worker?
Once you have successfully completed your course, you can begin looking for a job as a traffic controller. There are plenty of casual, part-time and full-time jobs available which you can find via recruitment agencies and websites.
Start with the Skill Hire Jobs Board, we have looking for traffic controllers in all areas now and you can submit your resume. Also a great tip is to find out what road projects are going on in your community, talking to your local government or council is a good start!
Where can I enrol or find out more?
Skill Hire recruits for many large projects and always looking for traffic controllers so express your interest for training or work by submitting your CV and messaging you are interested in a job as a traffic controller in Perth. Click here to submit your CV!
K
Skill Hire really helped me to see that I can accomplish something if I set my mind to it and I completed my course 2 months prior to the completion date. Cheers guys!
M
Skill Hire are helpful and professional. Nicola was attentive to all my needs. Their timesheets systems were a breeze and always update us with messages. Thanks Skill Hire
S
I just wanted to thank Skill Hire's EST Trainers. Nathan is the absolute best trainer I've ever had privilege to meet by a WIDE margin and I appreciate everything done for all of us. I'm ecstatic about the internship opportunity.
G
Not only did Skill Hire respond quickly to our urgent need, your team took the time to understand our organization and our needs. The people sent to help out were outstanding and their ability to rapidly adapt to our workplace eased our burden during what was a very challenging few months.
P
My son has thoroughly enjoyed the Construction Pathways course. He spent the last 18 months being home schooled and not socializing with anyone so to see him eager to get up and leave the house every day still blows my mind. Simon, thank you for your understanding and taking extra care with my son.
J
I wanted to say a big thank you to Skill Hire and the team, especially Wayne for such an amazing experience for our students. All of our students were thoroughly engaged with the course and learned many valuable skills.