Pursue a career in the construction industry
Skill Hire currently have a pre-apprenticeship program running with 15 students.  All students came to us having either previously taken part in a Try-A-Trade, had friends enrolled in the VETiS program or had seen our flyers at a recent expo. All students share a common interest, they want to pursue a career in the construction industry but need to gain a basic understanding of what is entailed! Working within community and with the youth is what Skill Hire do best and the pre-apprenticeship program is a great opportunity for young students to gain and insight into the construction industry.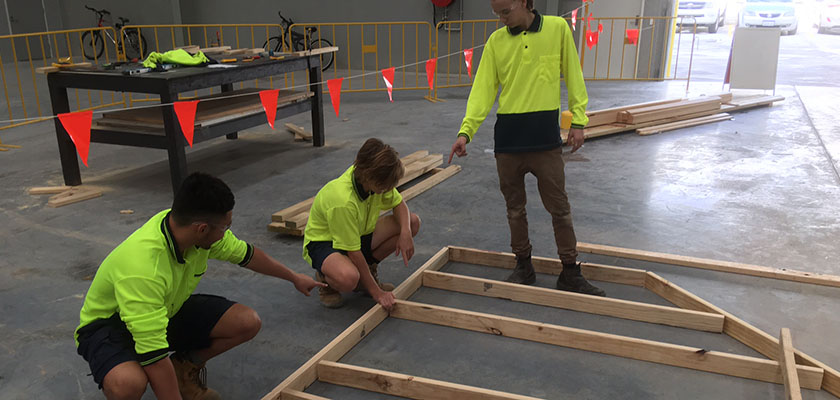 Perfect starting point for students
Our 15 week program aiming to be a perfect starting point for these students. The course aims at providing students with generalized skills and basic hand skills that can be transferred across the industry. Students will focus on the importance of occupational health and safety, legislation, mandatory safety procedures and safe working practices required on a construction site. There will be practical demonstrations along with knowledge based tests, work experience and even field trips.
Our program has seen lots of success with many pre-apprentices going on to be employed through our Group Training and become Trainees/Apprentices and return to train with the RTO.
Next course due to commence 23 October
We continually run these programs throughout the year, our next course due to commence on Monday 23rd October. If you are interested in applying or know someone this would be well suited:
[page_links]
Download your free course guide
K
Skill Hire really helped me to see that I can accomplish something if I set my mind to it and I completed my course 2 months prior to the completion date. Cheers guys!
M
Skill Hire are helpful and professional. Nicola was attentive to all my needs. Their timesheets systems were a breeze and always update us with messages. Thanks Skill Hire
S
I just wanted to thank Skill Hire's EST Trainers. Nathan is the absolute best trainer I've ever had privilege to meet by a WIDE margin and I appreciate everything done for all of us. I'm ecstatic about the internship opportunity.
G
Not only did Skill Hire respond quickly to our urgent need, your team took the time to understand our organization and our needs. The people sent to help out were outstanding and their ability to rapidly adapt to our workplace eased our burden during what was a very challenging few months.
P
My son has thoroughly enjoyed the Construction Pathways course. He spent the last 18 months being home schooled and not socializing with anyone so to see him eager to get up and leave the house every day still blows my mind. Simon, thank you for your understanding and taking extra care with my son.
J
I wanted to say a big thank you to Skill Hire and the team, especially Wayne for such an amazing experience for our students. All of our students were thoroughly engaged with the course and learned many valuable skills.