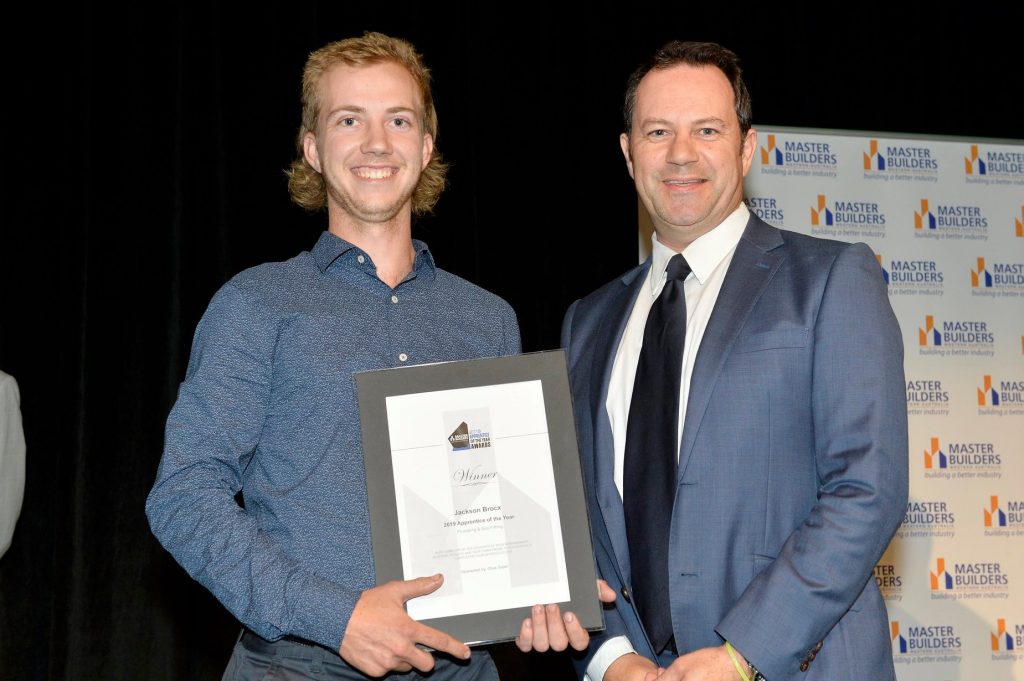 It was a memorable night for Skill Hire apprentices at the recently held 2019 Master Builders Apprentice of the Year Awards held at The Westin Perth with many sweeping big awards. The annual Awards function celebrates excellence in construction trades such carpentry, bricklaying, plumbing and electrical in Western Australia.
The coveted 2019 Apprentice of the Year award was won by our 4th Year Plumbing and Gas Apprentice, Jackson Brocx. According to Construction Training Fund Executive Director and Chief Judge, Alan Jackson, the 4th Year apprentice was deemed a worthy winner due to his supervisors giving him the highest possible rating in every aspect of his work. His work ethic, trade skills and outstanding problem solving abilities as well as his ability to work unsupervised with confidence won the judges over. In addition to the title award, Jackson also won the Most Outstanding Plumbing Apprentice award.
Another notable Skill Hire winner was Joshua Corley, a 2nd Year Welding Apprentice, who won not one, not two but three major awards; Most Outstanding Skill Hire Apprentice, Most Outstanding 2nd Year Skill Hire Apprentice and Most Outstanding Indigenous Building & Construction Apprentice.
Other Skill Hire winners and finalists include:
SKILL HIRE HOST EMPLOYER
Winner – Civmec Construction
MOST OUTSTANDING 1st YEAR SKILL HIRE APPRENTICE
Winner – Jackson Wells – Electrotechnology
Finalist – Kiara Rogers – Carpentry
Finalist – Kienan Burditt – Fabrication
Finalist – Michael Quaid – Carpentry
MOST OUTSTANDING 2ND YEAR SKILL HIRE APPRENTICE
Winner – Joshua Corley – Welding
Finalist – Lewis Thomson – Electrotechnology
Finalist – Tyler Comery – Carpentry
MOST OUTSTANDING 3RD YEAR SKILL HIRE APPRENTICE
Winner – Aaron Cumming – Bricklaying
Winner – Bailey Ingham – Carpentry
Finalist – Damon Penfold – Electrotechnology
Finalist – Isiah Brown – Electrotechnology
Finalist – Luke Moses – Plumbing & Gas Fitting
MOST OUTSTANDING 4TH YEAR SKILL HIRE APPRENTICE
Winner – Conor Duffy – Electrotechnology
Winner – Samuel Campisi – Fabrication
Finalist – Eli Batty – Carpentry
Finalist – Fraser Daly – Carpentry
Finalist – Jackson Brocx – Plumbing & Gas Fitting
Finalist – Matthew Mansfield – Carpentry
On behalf of everyone at Skill Hire, we would like to extend a huge congratulations to all the winners, finalists and Host Employers. The 2019 Apprentice of the Year Awards was a night to remember and we couldn't be prouder to be part of this journey of building tomorrow's workforce.
If you would like to be an apprentice or host employer with Skill Hire, please click here or get in touch with our team on 9376 2800.
K
Skill Hire really helped me to see that I can accomplish something if I set my mind to it and I completed my course 2 months prior to the completion date. Cheers guys!
M
Skill Hire are helpful and professional. Nicola was attentive to all my needs. Their timesheets systems were a breeze and always update us with messages. Thanks Skill Hire
S
I just wanted to thank Skill Hire's EST Trainers. Nathan is the absolute best trainer I've ever had privilege to meet by a WIDE margin and I appreciate everything done for all of us. I'm ecstatic about the internship opportunity.
G
Not only did Skill Hire respond quickly to our urgent need, your team took the time to understand our organization and our needs. The people sent to help out were outstanding and their ability to rapidly adapt to our workplace eased our burden during what was a very challenging few months.
P
My son has thoroughly enjoyed the Construction Pathways course. He spent the last 18 months being home schooled and not socializing with anyone so to see him eager to get up and leave the house every day still blows my mind. Simon, thank you for your understanding and taking extra care with my son.
J
I wanted to say a big thank you to Skill Hire and the team, especially Wayne for such an amazing experience for our students. All of our students were thoroughly engaged with the course and learned many valuable skills.