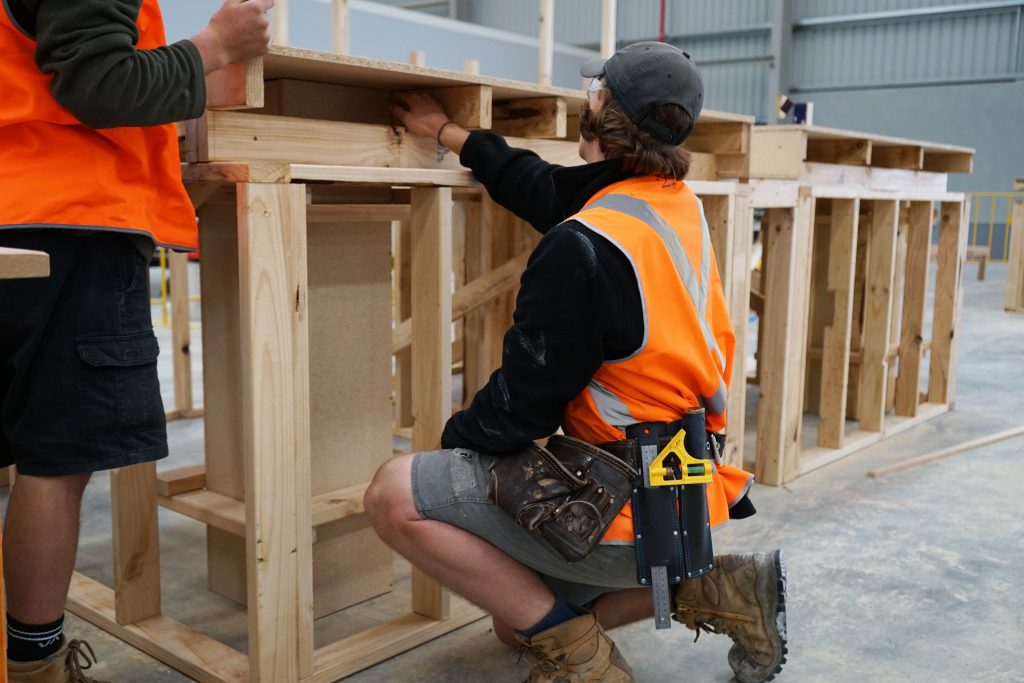 If you are thinking of starting an apprenticeship or traineeship, the good news is that there are over 500 occupations in a variety of qualification levels to choose from. Apprenticeships and traineeships will lead to a nationally recognized qualification in your chosen field. Whether you are a school-leaver, someone re-entering the workforce or a mature-aged worker wanting to make a career change, anyone of working age regardless of their education level can apply for an Australian apprenticeship or traineeship.
Due to the overwhelming number of courses on offer, we have compiled a list of 10 apprenticeships and traineeships that are topping this year's popularity list to help you with your career decisions. It would be worth knowing that many of the occupations listed below are experiencing skill shortages based on research conducted by the Department of Employment, Skills, Small and Family Business so, there has never been a better time to commence an apprenticeship or traineeship.
If you are interested in commencing any of the below-mentioned apprenticeships or traineeships, check out our guide to starting this journey here or speak to one of our career consultants at 9376 2800.
1. Carpentry and Joinery
An apprenticeship in Carpentry and Joinery will give you the fundamental skills and training to become a qualified carpenter and joiner. What is the difference between carpentry and joinery? Carpentry involves the creation, repairing and installation of timber and other materials in a construction setting like installing staircases, building shelves and kitchen cabinetry. On the other hand, joinery focuses on the joints within a construction setting such as window frames, doorways and trusses. It generally takes 3 years to become a qualified 'chippie' when you commence a Certificate III course in Carpentry and Joinery. If you want to take your career to the next level, you can even go on to complete a builder's license.
Career Pathways in Carpentry and Joinery: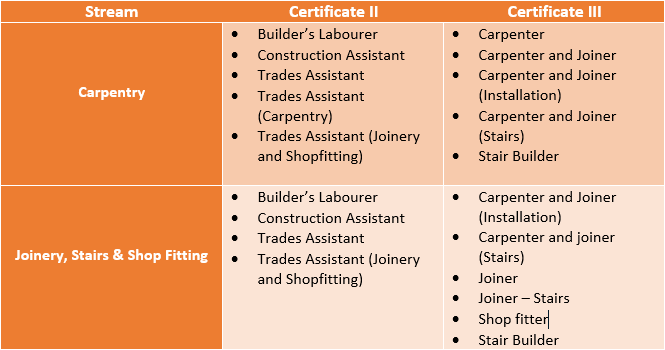 Average Starting Salary: $48,600 per year
2. Bricklaying / Blocklaying
If you are the kind of person who enjoys hands-on work, working outdoors and have a good hand-eye coordination, you may want to consider commencing an apprenticeship in bricklaying/block laying. A qualified 'brickie' not only lays bricks and mortar but also have the strong technical knowledge to comprehend plans and projects. A Certificate III course in bricklaying/block laying will give you the knowledge and skills to lay bricks for domestic, commercial and public buildings; construct arches, columns, feature walls, steps, stairs and curved walls.
Career Pathways in Bricklaying / Blocklaying:



Average Starting Salary: $52,100 per year
3. Commercial Cookery
If you are a foodie and want to take your passion for eating food to the next level by learning the science and technique behind the cooking, then a Certificate III course in Commercial Cookery will appeal to you. An apprenticeship in commercial cookery will teach you the skills to prepare, cook and present food. You will also learn about the hospitality industry and how to plan menus and run a busy kitchen. Furthermore, you will learn how to make dishes that cater to different cultural and dietary requirements. In just 18 months of doing an apprenticeship, you will become a qualified chef with the ability to gain employment in restaurants, hotels, cafés, pubs and clubs.
Career Pathways in Commercial Cookery:



Average Starting Salary: $46,100
4. Air Conditioning and Refrigeration 
An apprenticeship in air conditioning and refrigeration will train you in installing, repairing and maintaining refrigeration and air conditioning systems, testing and troubleshooting circuits, repairing and assembling electronic components, handling refrigerants and workplace health and safety.
Career Pathways in Air Conditioning and Refrigeration:



Average Starting Salary: $63,700
5. Engineering – Fabrication Trade
It will take up to four years to complete a Certificate III in Engineering (Fabrication Trade) but you will walk away with skills in activities such as forging and metal fabrication, structural steel erection, sheetmetal work, welding, blacksmithing and surface finishing.
Career Pathways in Fabrication:



Average Starting Salary: $55,900
To find out which other apprenticeships and traineeships made it to our Top 10 list this year, click here.
For more information on apprenticeships and traineeships, please visit our website or speak to one of our career consultants at 9376 2800.
K
Skill Hire really helped me to see that I can accomplish something if I set my mind to it and I completed my course 2 months prior to the completion date. Cheers guys!
M
Skill Hire are helpful and professional. Nicola was attentive to all my needs. Their timesheets systems were a breeze and always update us with messages. Thanks Skill Hire
S
I just wanted to thank Skill Hire's EST Trainers. Nathan is the absolute best trainer I've ever had privilege to meet by a WIDE margin and I appreciate everything done for all of us. I'm ecstatic about the internship opportunity.
G
Not only did Skill Hire respond quickly to our urgent need, your team took the time to understand our organization and our needs. The people sent to help out were outstanding and their ability to rapidly adapt to our workplace eased our burden during what was a very challenging few months.
P
My son has thoroughly enjoyed the Construction Pathways course. He spent the last 18 months being home schooled and not socializing with anyone so to see him eager to get up and leave the house every day still blows my mind. Simon, thank you for your understanding and taking extra care with my son.
J
I wanted to say a big thank you to Skill Hire and the team, especially Wayne for such an amazing experience for our students. All of our students were thoroughly engaged with the course and learned many valuable skills.