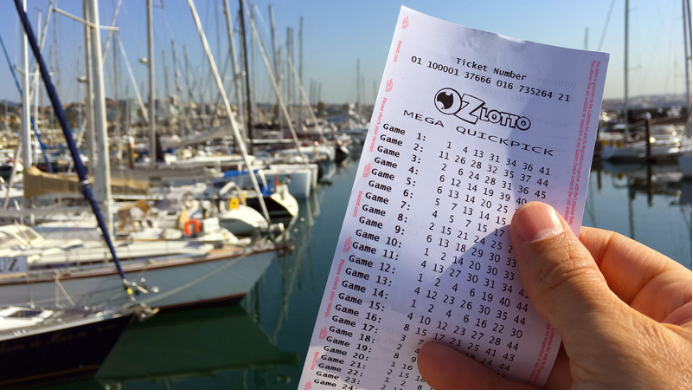 A tradesman from western Sydney has walked off the job and plans never to return after discovering he had won $50 million in Oz Lotto. The anonymous man from Leumeah discovered he was the mystery sole winner of Wednesday night's jackpot after a google search this afternoon.
"Oh my god. I don't believe it. I'm crying and laughing. Oh my god," he told NSW Lotteries.
"I just don't believe it. I'm speechless. I can't believe this has happened to me.
"I was just at work and heard that the division one prize had not been claimed.
"So I got my ticket and googled the numbers and saw that I had all of the winning numbers.
"I still wasn't sure I'd won, so I called my daughter and asked her to check the numbers and she said to me 'oh my god dad, I think you've won'."
The keen fisherman said he immediately left work and is "definitely not" going back.
"I didn't say anything. I was just thinking 'oh my god'," he said.
"I just can't believe this. I need to go home, have a sit down and just calm down.
"I want to buy a house by the beach and spend all my days fishing and golfing.
"But money is not everything to me.
"My friends and family mean more to me than money, so I want to use it wisely and I want to share it with them."
The winning entry was bought at Leumeah Newsagency on O'Sullivan Road.
Source: 9 News
K
Skill Hire really helped me to see that I can accomplish something if I set my mind to it and I completed my course 2 months prior to the completion date. Cheers guys!
M
Skill Hire are helpful and professional. Nicola was attentive to all my needs. Their timesheets systems were a breeze and always update us with messages. Thanks Skill Hire
S
I just wanted to thank Skill Hire's EST Trainers. Nathan is the absolute best trainer I've ever had privilege to meet by a WIDE margin and I appreciate everything done for all of us. I'm ecstatic about the internship opportunity.
G
Not only did Skill Hire respond quickly to our urgent need, your team took the time to understand our organization and our needs. The people sent to help out were outstanding and their ability to rapidly adapt to our workplace eased our burden during what was a very challenging few months.
P
My son has thoroughly enjoyed the Construction Pathways course. He spent the last 18 months being home schooled and not socializing with anyone so to see him eager to get up and leave the house every day still blows my mind. Simon, thank you for your understanding and taking extra care with my son.
J
I wanted to say a big thank you to Skill Hire and the team, especially Wayne for such an amazing experience for our students. All of our students were thoroughly engaged with the course and learned many valuable skills.