One thing we get asked quite frequently at Skill Hire is how Group Training Organisations (GTO), Registered Training Organisations (RTO) and Host employers work together when it comes to apprenticeships. We understand that it can be a complicated concept to understand so we have simplified everything for you in this blog article to help you make informed decisions.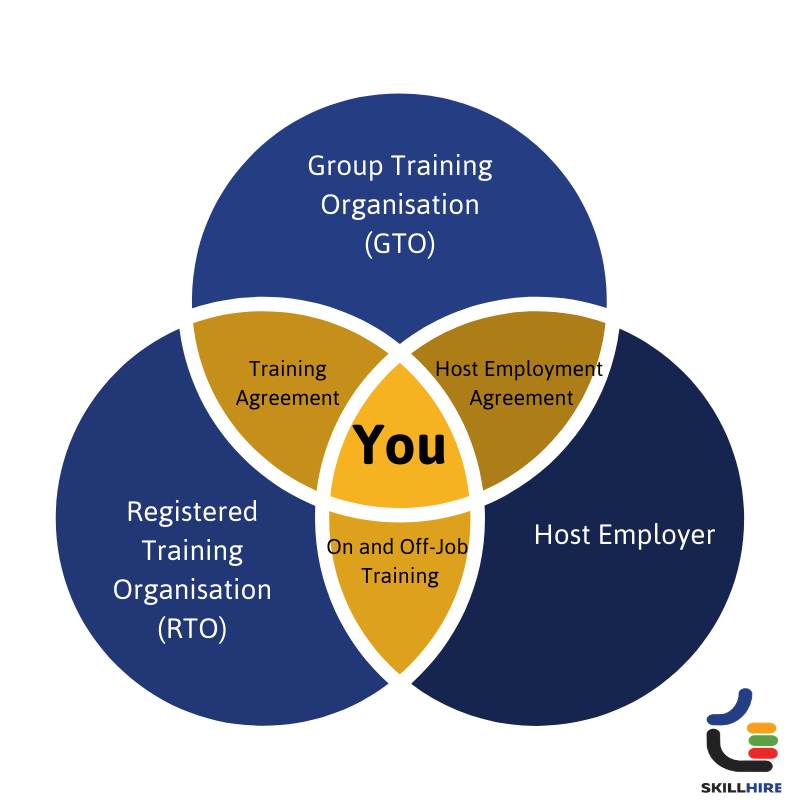 TERMS EXPLAINED
Group Training Organisation (GTO) – an organisation that employs apprentices and trainees and places them with a host employer.
Registered Training Organization (RTO) – a provider and assessor of nationally recognized vocational education and training.
Host Employer – a company that provides on-the-job training and work experience to apprentices and trainees.
PROCESS EXPLAINED
If you are wondering what is the difference between an apprenticeship and a traineeship, we break it down for you here. With over 500 apprenticeships and traineeships available in Australia, you can choose to pursue qualifications in any field you like. Take a look at some of the most popular apprenticeships and traineeships at Skill Hire.
When it comes to finding an apprenticeship or traineeship, there are a couple of ways you can go about doing this. You can get hired directly by an employer or you utilize the services of a GTO. As a registered GTO, Skill Hire will employ you directly and place you with a host employer. As your primary employer, we will pay your wages, monitor your training and provide you with mentoring throughout.  On the other hand, your Host Employer will provide on-the-job training while you complete your apprenticeship or traineeship to obtain a nationally recognized qualification.
The best part about choosing an GTO for your apprenticeship instead of being directly employed by a company is that we will place you with another host employer if your placement terminates or if things don't work out. Rest assured, your training will not be disrupted and affect the duration it takes for you to obtain your qualification.
Before you can officially begin your apprenticeship or traineeship, you will need to sign a Commonwealth Government Training Contract. You will also need to choose a RTO that will provide your training. Once again, this is something we can help you with because we are a RTO (0361) in addition to being a GTO.
BENEFITS OF AN APPRENTICESHIP OR TRAINEESHIP
Now that you know what an apprenticeship actually involves and know how GTOs, RTOs and Host Employers work together to help you pursue a nationally accredited qualification, it's time to talk about the benefits of doing an apprenticeship or traineeship. Here you go:
You earn while you learn – unlike tertiary studies where you don't get paid to learn, apprenticeships and traineeships will pay you to study and work.
You get real work experience – You will gain valuable work experience and be exposed to different working environments. Furthermore, you will be taught by and work alongside qualified tradespeople who are up to date on the latest skills and techniques.
You are nationally recognized – When you finish your apprenticeship or traineeship, you will receive a nationally recognized qualification that is honored anywhere in Australia and open doors for you.
Complete training at your own pace – First of all, apprenticeships can be completed part-time or full-time. Secondly, training is competency-based so, you can complete your training faster if you reach the required skill level faster.
You can start while you are in school – a school-based apprenticeship or traineeship will give you a head start on future training before you even graduate.
At Skill Hire, we believe in making things easy. As both a RTO and a GTO, we make your journey to obtaining a nationally recognised qualification via an apprenticeship or traineeship real easy. To learn how to apply for an apprenticeship or traineeship with Skill Hire, please click here or speak to one of our team members at 9376 2800.
K
Skill Hire really helped me to see that I can accomplish something if I set my mind to it and I completed my course 2 months prior to the completion date. Cheers guys!
M
Skill Hire are helpful and professional. Nicola was attentive to all my needs. Their timesheets systems were a breeze and always update us with messages. Thanks Skill Hire
S
I just wanted to thank Skill Hire's EST Trainers. Nathan is the absolute best trainer I've ever had privilege to meet by a WIDE margin and I appreciate everything done for all of us. I'm ecstatic about the internship opportunity.
G
Not only did Skill Hire respond quickly to our urgent need, your team took the time to understand our organization and our needs. The people sent to help out were outstanding and their ability to rapidly adapt to our workplace eased our burden during what was a very challenging few months.
P
My son has thoroughly enjoyed the Construction Pathways course. He spent the last 18 months being home schooled and not socializing with anyone so to see him eager to get up and leave the house every day still blows my mind. Simon, thank you for your understanding and taking extra care with my son.
J
I wanted to say a big thank you to Skill Hire and the team, especially Wayne for such an amazing experience for our students. All of our students were thoroughly engaged with the course and learned many valuable skills.