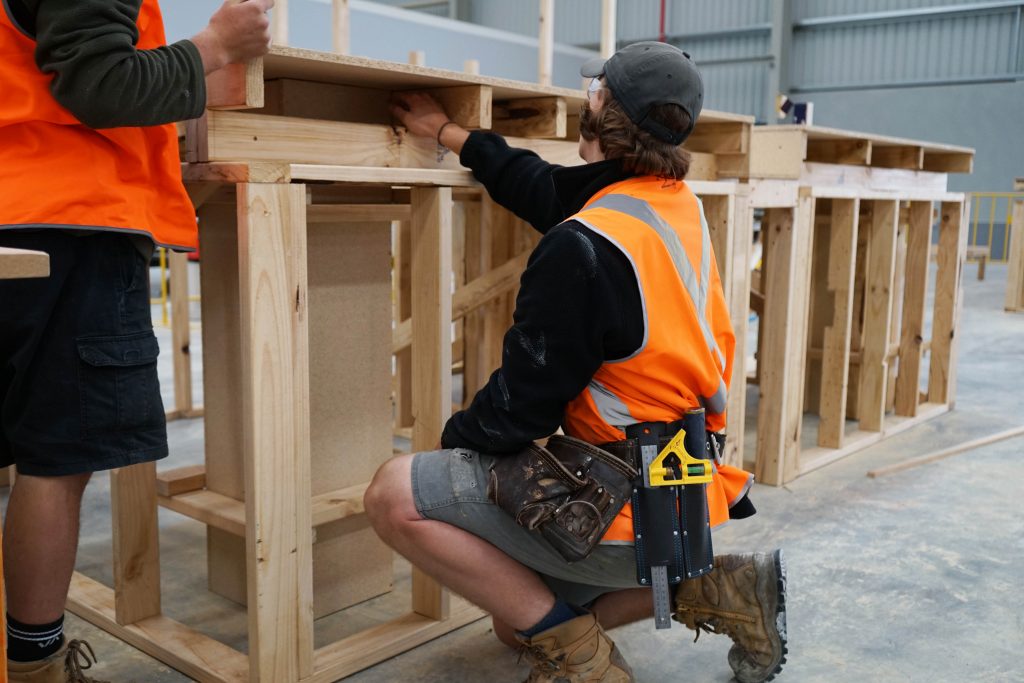 If you are at that stage in your life where you need to choose a career path to pursue, we understand how overwhelmed you must be. The fact that there are over 500 different occupations to choose from doesn't make the situation any better. To help you out, we have created a new blog series called "What's It Like to Be?" where we put the spotlight on a particular job so that you can make an informed decision for your future.
What does a carpenter do?
Carpenters construct, build, install, repair and erect wooden frames, foundations, walls and fixtures on residential, commercial and industrial projects using wood, plywood and wallboard. Some tasks and duties associated with the job are:
Studying building plans and drawings to work out the materials required and how best to install features.
Preparing, treating, cutting and shaping timber elements to be used for structures or fittings.
Erecting building framework, roofs and floors, fitting exteriors, doors and window frames.
As with most trade occupations, the duties and tasks carried out by carpenters vary on a project basis.
Types of carpenters
Now that you know what a Carpenter does, it is time to talk about the different specialisations within the field. Here are some of the common type of carpenters:
Rough Framing Carpenter
This is the most common starting point for a beginner. A rough framing carpenter is responsible for building from the ground up including the floor, walls, stairs and roof structure.
Finish Trim Carpenter
This type of carpenter is more detail-oriented so it's a job fit for experienced carpenters. Finish trim carpenters install cabinets, doors, baseboard trim, door and window framing, stair treads, etc.
Cabinet Maker
Cabinet makers are responsible for building and installing cabinets, furniture and other specialty items.
Deck Builder
This type of carpenter deals with the installation of post and bream framing, joists hanger layouts and decking installation.
Shipwright
A shipwright carpenter builds and repairs boats in all shapes and sizes. They are responsible for the design phase as well as building according to strict specifications.
Flooring Installer
A flooring installer is responsible for fixing and levelling floors, laying laminates, hardwoods and linoleum.
How to become a carpenter?
In order to become a certified Carpenter, you will need to complete a Certificate III in Carpentry and Joinery. This qualification usually takes between 3 to 4 years to complete. As part of the qualification, you are required to undergo training with a Registered Training Organisation (RTO) after finishing Year 10. This is where we can help you. Skill Hire is a RTO (0361) providing apprenticeships (including school-based) and traineeships. To learn more about doing an apprenticeship with Skill Hire, click here. It is also worth noting that an apprenticeship in Carpentry and Joinery is among the Top 10 Apprenticeships and Traineeships of 2019.
While completing an apprenticeship in Carpentry and Joinery, we recommend you to also enrol in a White Card training course if you intend to work on a construction site. To learn more about completing a White Card training course with Skill Hire's specialist training division, Nara Training & Assessing, click here.
What Kind of skills do you need to be a carpenter?
Mechanical
Carpenters use mechanical skills to work with a variety of tools and machines.
Math
Carpenters need math skills in order to accurately measure materials that need to be cut and installed. They also need math skills to plan project – this might include reading blueprints and making measurements as well as calculating costs to make sure the project comes in under budget.
Detail Orientation
Carpenters must be very precise in their work.
Critical Thinking
Carpenters must be able to problem-solve when issues arise in a project.
Physical Strength
Physical strength is essential in order to lift and wield heavy tools and material, including wood.
Communication
The ability to listen and comprehend client requirements as well as communicating effectively with them are some important soft skills to have.
How much can you earn as a carpenter?
The salary of a Carpenter is fairly the same across all states in Australia and attracts an average salary of $55,000 to $65,000 per annum. Carpenters living and working in the Northern Territory and the Australian Capital Territory can expect to earn an average salary of $70,000 to $80,000 due to a skill shortage in the areas. Source: SEEK
How is the labour market looking for carpenters?
The Australian Government expects the number of people working as Carpenters and Joiners to increase over the next 4 years from 133,100 in 2018 to 140,200 by 2023. Once you complete a Certificate III course in Carpentry and Joinery, Skill Hire's labour hire division can help find suitable employment for you. If you have completed your Certificate III course already, please email contact our labour hire team on 9376 2800.
K
Skill Hire really helped me to see that I can accomplish something if I set my mind to it and I completed my course 2 months prior to the completion date. Cheers guys!
M
Skill Hire are helpful and professional. Nicola was attentive to all my needs. Their timesheets systems were a breeze and always update us with messages. Thanks Skill Hire
S
I just wanted to thank Skill Hire's EST Trainers. Nathan is the absolute best trainer I've ever had privilege to meet by a WIDE margin and I appreciate everything done for all of us. I'm ecstatic about the internship opportunity.
G
Not only did Skill Hire respond quickly to our urgent need, your team took the time to understand our organization and our needs. The people sent to help out were outstanding and their ability to rapidly adapt to our workplace eased our burden during what was a very challenging few months.
P
My son has thoroughly enjoyed the Construction Pathways course. He spent the last 18 months being home schooled and not socializing with anyone so to see him eager to get up and leave the house every day still blows my mind. Simon, thank you for your understanding and taking extra care with my son.
J
I wanted to say a big thank you to Skill Hire and the team, especially Wayne for such an amazing experience for our students. All of our students were thoroughly engaged with the course and learned many valuable skills.