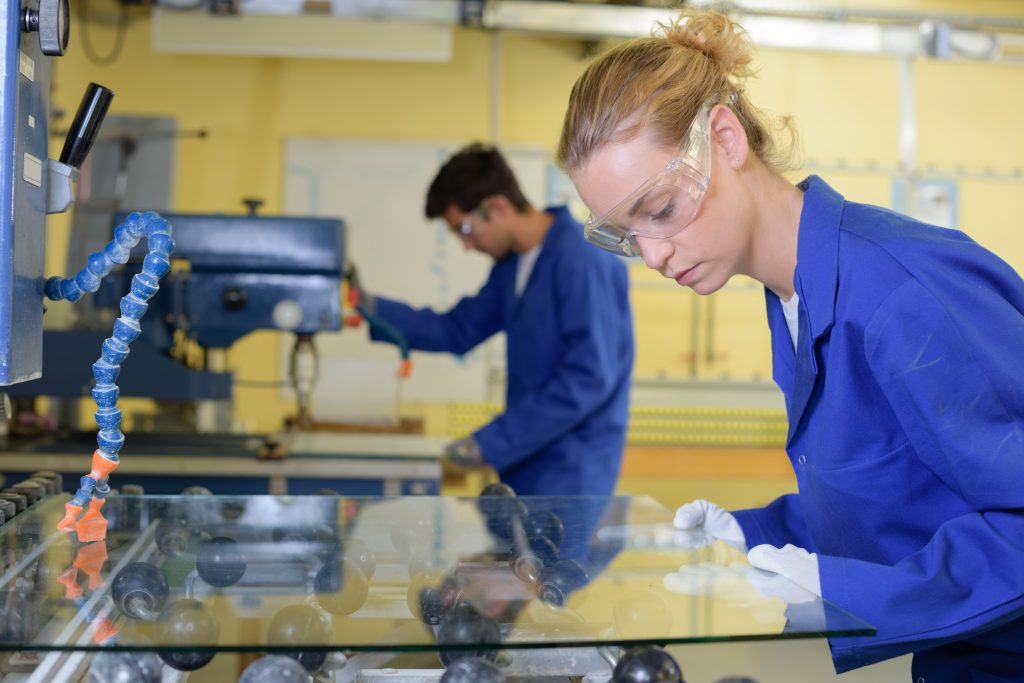 You are probably wondering what a Glazier is and we don't blame you. This may be a lesser known profession but Glaziers play an important role in our homes and businesses. The windows and other glass work around us all has its roots to Glaziers.  In this blog post, we talk about what Glaziers do, how to become a Glazier and what work opportunities are out there if you choose this as a career pathway.
What Does a Glazier Do?
Glaziers measure, cut, finish, fit and install flat glass and mirrors. Glaziers may work with glass in various surfaces and settings, allowing them to create distinctive designs.
Some tasks and duties associated with the job are:
Determining type and dimensions of glass required
Laying glass over patterns on padded tables and in jigs
Measuring and marketing glass for cutting
Examining glass and marking defective areas
Cutting along patterns and templates
Breaking off sheets and excess glass with notched tools and glass pliers
Installing glass and mirrors in windows, skylights, display cases, interior walls and ceilings
Smoothing rough edges using belt sanders and smoothing wheels
May coat, cut, etch, trim and treat glass to achieve special effects
How to Become a Glazier?
To become a certified Glazier, you will need to complete a Certificate III course in Glass and Glazing. This qualification takes 4 years to complete. As part of the qualification, you are required to undergo training with a Group Training Organisation (GTO). This is where we can help you. Skill Hire is a GTO that connects you to a Host Employer who will give you practical work experience while studying. To learn more about doing an apprenticeship with Skill Hire, click here
What Kind of Skills Do You Need to Be a Glazier?
Ability to manipulate and use hand tools
Hand-eye coordination
Keen spatial awareness
Reading comprehension
Use of logic, critical thinking and reasoning
How Much Can You Earn as a Glazier?
Glaziers earn an average salary of $54,600 per year. Earnings tend to be lower when starting out but higher as experience grows.
Source: Jobs Outlook
How is the Labour Market Looking for Glaziers?
Glaziers are an in demand occupation in Australia. The number of people working as Glaziers grew strongly over the past 5 years and is expected to grow strongly over the next 5 years to 11,400 by 2023. The demand for skilled Glaziers is primarily from construction, manufacturing and wholesale trade industries.
How Can Skill Hire Help?
You already know that you can commence an apprenticeship as a Glazier with Skill Hire but did you know that we are also a recruitment company? Our labour hire division can help find suitable employment for you once you complete your qualifications and training. For more information on how Skill Hire can help you pursue a career as a Glazier, please get in touch with our team on 9376 2800 or visit our website www.skillhire.com.au
K
Skill Hire really helped me to see that I can accomplish something if I set my mind to it and I completed my course 2 months prior to the completion date. Cheers guys!
M
Skill Hire are helpful and professional. Nicola was attentive to all my needs. Their timesheets systems were a breeze and always update us with messages. Thanks Skill Hire
S
I just wanted to thank Skill Hire's EST Trainers. Nathan is the absolute best trainer I've ever had privilege to meet by a WIDE margin and I appreciate everything done for all of us. I'm ecstatic about the internship opportunity.
G
Not only did Skill Hire respond quickly to our urgent need, your team took the time to understand our organization and our needs. The people sent to help out were outstanding and their ability to rapidly adapt to our workplace eased our burden during what was a very challenging few months.
P
My son has thoroughly enjoyed the Construction Pathways course. He spent the last 18 months being home schooled and not socializing with anyone so to see him eager to get up and leave the house every day still blows my mind. Simon, thank you for your understanding and taking extra care with my son.
J
I wanted to say a big thank you to Skill Hire and the team, especially Wayne for such an amazing experience for our students. All of our students were thoroughly engaged with the course and learned many valuable skills.