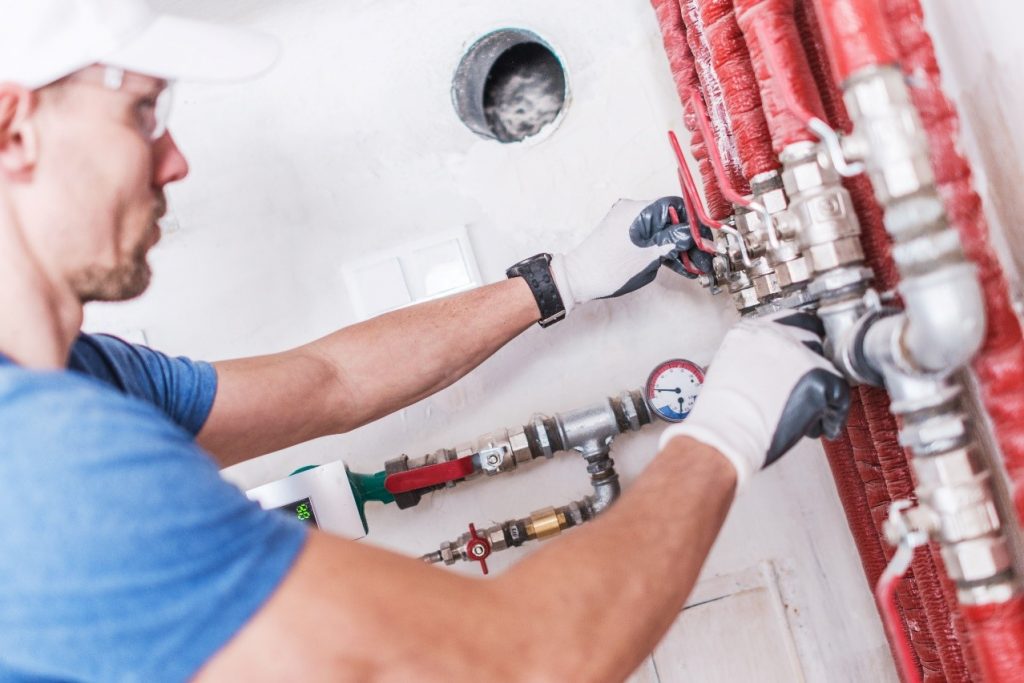 Plumbers are well-known for their high earning potential but that should not be your sole motivation for pursuing a career as a plumber. This high demand career will give you a rewarding experience with no two days at work being the same. Let's find out what's it like to be a plumber and gas fitter in Australia.
What does a plumber do?
Plumbers install, maintain and repair pipes, drains, guttering and metal roofing, mechanical services, and related equipment for water supply, gas, drainage, sewerage, heating, cooling, and ventilation systems.
Some you might find yourself doing include:
Studying blueprints, drawings, and specifications to determine the layout of plumbing systems and materials required
Setting out and installing hot and cold water systems and associated equipment
Installing water-based fire protection systems, including fire hydrants, hose reels, and sprinkler systems
Designing and installing sanitary plumbing and water systems, discharge pipes and sanitary fixtures
Fabricating and installing soil and waste stacks
Assembling and installing mechanical services plant, air handling, and conditioning equipment and small bore heating systems
Installing sewerage and effluent pumping equipment and disposal systems
Installing below-ground drainage systems and associated ground support systems
Installing gas appliances, flues and pressure regulating devices
Fabricating and installing metal roofing, rainwater goods, and flashings
Different types of plumbers
Up until now, you probably didn't know there are different kinds of plumbers so let's find out what are the differences between them all.
Water plumbers – Water plumbers carry out tasks such as installing hot / cold water supply to bathrooms and kitchens. They also connect rainwater tanks for garden irrigation and flushing toilets.
Sanitary plumbers – Plumbers who engage in this type of work install sanitary fixtures such as toilets, basins and sinks. They are also in charge of clearing blockages in sanitary drains.
Gasfitters – Gasfitting is any work carried out on a gas installation, other than an autogas installation, which is connected to a compressed natural gas container. Gasfitting includes the installation, repairing and disconnection of services.
Roof plumbers – Roof plumbing includes any work completed on the downpipes, guttering, roof flashing and roof coverings of a building or structure.
How to become a plumber?
To become a certified plumber, you will need to complete a Certificate III in Plumbing (CPC32413). This qualification takes four years to complete. As part of the qualification, you are required to undergo training with a Group Training Organisation (GTO) like Skill Hire. A GTO connects you to a Host Employer, who will give you practical work experience while studying. To learn more about doing an apprenticeship with Skill Hire, click here.
While completing an apprenticeship in plumbing and gas fitting, we recommend you also enrol in a White Card training course which is a basic qualification that allows you to work on a construction site. To learn more about completing a White Card training course with Skill Hire's specialist training provider – Nara Training and Assessing click here.
Last but not the least, you must hold a plumbing contractor's license issued by the Plumbers Licensing Board before you are legally permitted to carry out plumbing work in Western Australia. To be eligible for the license, you must demonstrate competency in carrying out water supply, sanitary and drainage plumbing work.
What kind of skills do you need to be a plumber?
Plumbing is a highly skilled job and you will learn and need these skills:
Plumbing installation, troubleshooting, and repair

During your apprenticeship, you can expect to learn a variety of installation, repair and maintenance procedures that will help you later down the track.

New plumbing trends and technology

Good plumbers also keep track of new technology and trends in the industry so they can offer the latest services.

Blueprints and basic math

Being able to correctly interpret blueprints is a key skill for all plumbers. You must be able to understand mechanical and architectural drawings in order to correctly install fixtures and appliances.

Use hand and power tools

Plumbers use a wide range of hand and power tools such as plungers, wrenches, circular saws, drills, etc. Along with these tools, you will also need to have good vision, coordination, and fine motor skills to work with these tools.

Good knowledge of safety procedures

An apprenticeship in plumbing will cover the safety measures associated with this profession but it is your job to stay informed and vigilant throughout your career.

Team work 

No matter how skilled you are, working as part of a crew is very important. Team members need to communicate and problem solve together.

Flexibility

Plumbers often get called in to deal with emergencies such as a burst pipe, overflowing toilet or busted water heater. So, if you have set rules about not wanting to work on a weekend or evening, then this may not be the right career for you. A good plumber is ready to jump in and deal with any issue at any time.
How much can you earn as a plumber?
Due to a skill shortage, plumbers are in demand throughout Australia. This means, if you pursue a career as a plumber, you can enjoy a a high salary that usually goes up according to your level of experience. You can check out Pay Scale for average hourly pay rates for plumbers in Australia.
How can Skill Hire help?
You already know that you can commence a plumbing apprenticeship with Skill Hire, but did you know that we are also a recruitment company? Our recruitment team can help find your perfect job when you complete your qualifications and training. For more information on how Skill Hire can help you pursue a career as a plumber, please get in touch.
K
Skill Hire really helped me to see that I can accomplish something if I set my mind to it and I completed my course 2 months prior to the completion date. Cheers guys!
M
Skill Hire are helpful and professional. Nicola was attentive to all my needs. Their timesheets systems were a breeze and always update us with messages. Thanks Skill Hire
S
I just wanted to thank Skill Hire's EST Trainers. Nathan is the absolute best trainer I've ever had privilege to meet by a WIDE margin and I appreciate everything done for all of us. I'm ecstatic about the internship opportunity.
G
Not only did Skill Hire respond quickly to our urgent need, your team took the time to understand our organization and our needs. The people sent to help out were outstanding and their ability to rapidly adapt to our workplace eased our burden during what was a very challenging few months.
P
My son has thoroughly enjoyed the Construction Pathways course. He spent the last 18 months being home schooled and not socializing with anyone so to see him eager to get up and leave the house every day still blows my mind. Simon, thank you for your understanding and taking extra care with my son.
J
I wanted to say a big thank you to Skill Hire and the team, especially Wayne for such an amazing experience for our students. All of our students were thoroughly engaged with the course and learned many valuable skills.