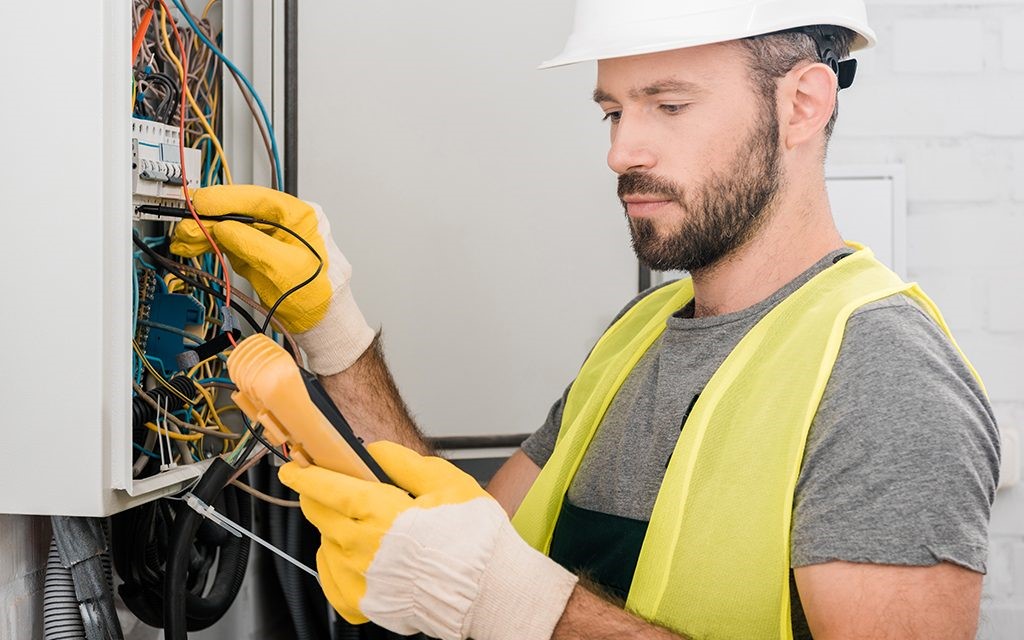 In today's blog, we will find out What's it like to be an electrician or a "sparkie" as they are popularly referred to in Australia. Without electricians, we wouldn't have access to lights, televisions, appliances and equipment that are necessity in the modern world. So, if you are curious to know what a job as an electrician is going to be like, keep on reading.
What does an electrician do?
Electricians work with electrical systems and networks in domestic, commercial and industrial settings. Electricians are skilled in performing a range of services safely, including installing and maintaining electrical switchboards, cables and wiring and diagnosing and repairing electrical malfunctions. They may also perform maintenance on existing electrical systems. The day-to-day tasks of electricians vary depending on their chosen specialisation but there are some general duties:
Maintaining and repairing electrical appliances
Installing and testing electrical systems and their components
Removing potential electrical hazards
Types of electricians 
An electrician is generally classified as an inside wireman or an outside lineman with various specialisations available in each category.
Inside wireman – This category focuses almost solely on the wiring of buildings. Structures range from newly built homes to aged industrial buildings that are being repurposed to new uses. Inside wiremen, as their name implied, work mostly indoors.
Outside lineman – On the other hand, outside linemen work outdoors most of the time. Due to the nature of this role, it is imperative that these types of electricians have at least a moderate amount of physical fitness as the role may require climbing telephone and power poles for when a lift bucket is not available. At times, outside linemen must also endure inclement weather as they repair or undertake maintenance on powerlines for all the homes, businesses and other structures in the area. These electricians work with transformers, transmission lines and traffic signals. They may also be required to trim trees or assemble electrical substations.
These two categories are then broken down  into these specialisations:
Residential electrician – These electricians plan, install and maintain the electrical systems of residential properties including lighting fixtures, power outlets and heating / ventilation systems.
Commercial electricians – Similar work to residential electricians but with a focus on commercial buildings such as offices and businesses.
Emergency electricians – These electricians need to be on-call 24/7 in order to repair any electrical issues that may arise unexpectedly and need to be fixed.
Specialist electricians – Make up a very broad category, comprising everything from refrigeration experts to electricians that focus exclusively on installing solar panels.
Construction electricians – Work on buildings as they are being built, ensuring their electrical systems are optimised for the property's eventual use.
How to become an electrician?
If you are interested in becoming an electrician, you will need to complete a Certificate III in Electrotechnology Electrician. This qualification usually takes between 3 to 4 years to complete. As part of the qualification, you are required to undergo training with a Registered Training Organisation (RTO) to complete an electrical apprenticeship. As a Group Training Organisation (GTO), we will coordinate your apprenticeship. To learn more about doing an apprenticeship with Skill Hire, click here.  Later on, you will also need to apply for an Electrician's License. Please note that licensing and registration requirements may vary between states and territories.
What kind of skills do you need to be an electrician?
Electrical installation and safety knowledge  These will be covered in your course and apprenticeship
Physical fitness  You don't need to have the fitness of an athlete but you do need to be comfortable doing things like standing for long periods, crouching and bending, lifting heavy weights, climbing up and down stairs, scaffolding and ladders and squeezing into small spaces and tight corners.
Manual dexterity and good vision  Electrical work is precision work so you need to have good hand-eye coordination and the ability to work with small tools and objects. You will also need to have good colour vision as the colour of electrical wires is extremely important in this trade.
Teamwork  To succeed as an electrician, you will have to get along with other people because you will be working with carpenters, plumbers and other tradespeople to complete projects.
Problem-solving  Is a big part of an electrician's job as you will be diagnosing problems and coming up with the best solution to those problems with safety at the forefront of everything you do.
How much can you earn as an electrician?
The average salary of an electrician in Australia is $85,000. However, electricians living and working in Western Australia can expect to earn $100,000 to $120,000 due to skill shortage in the state.
Source: SEEK
How is the labour market looking for electrician?
The Australian Government expects the number of people working as electricians to increase over the next 5 years from 169,000 in 2020 to 187,400 by 2025. Due to a skill shortage, electricians are much sought after in Australia, especially in Western Australia. To commence an apprenticeship as an electrician through Skill Hire, please get in touch with us on 9376 2800. If you have already completed a Certificate III course in Electrotechnology and now looking for work as an electrician, please get in touch with our Labour Hire team on 9376 2800.
K
Skill Hire really helped me to see that I can accomplish something if I set my mind to it and I completed my course 2 months prior to the completion date. Cheers guys!
M
Skill Hire are helpful and professional. Nicola was attentive to all my needs. Their timesheets systems were a breeze and always update us with messages. Thanks Skill Hire
S
I just wanted to thank Skill Hire's EST Trainers. Nathan is the absolute best trainer I've ever had privilege to meet by a WIDE margin and I appreciate everything done for all of us. I'm ecstatic about the internship opportunity.
G
Not only did Skill Hire respond quickly to our urgent need, your team took the time to understand our organization and our needs. The people sent to help out were outstanding and their ability to rapidly adapt to our workplace eased our burden during what was a very challenging few months.
P
My son has thoroughly enjoyed the Construction Pathways course. He spent the last 18 months being home schooled and not socializing with anyone so to see him eager to get up and leave the house every day still blows my mind. Simon, thank you for your understanding and taking extra care with my son.
J
I wanted to say a big thank you to Skill Hire and the team, especially Wayne for such an amazing experience for our students. All of our students were thoroughly engaged with the course and learned many valuable skills.