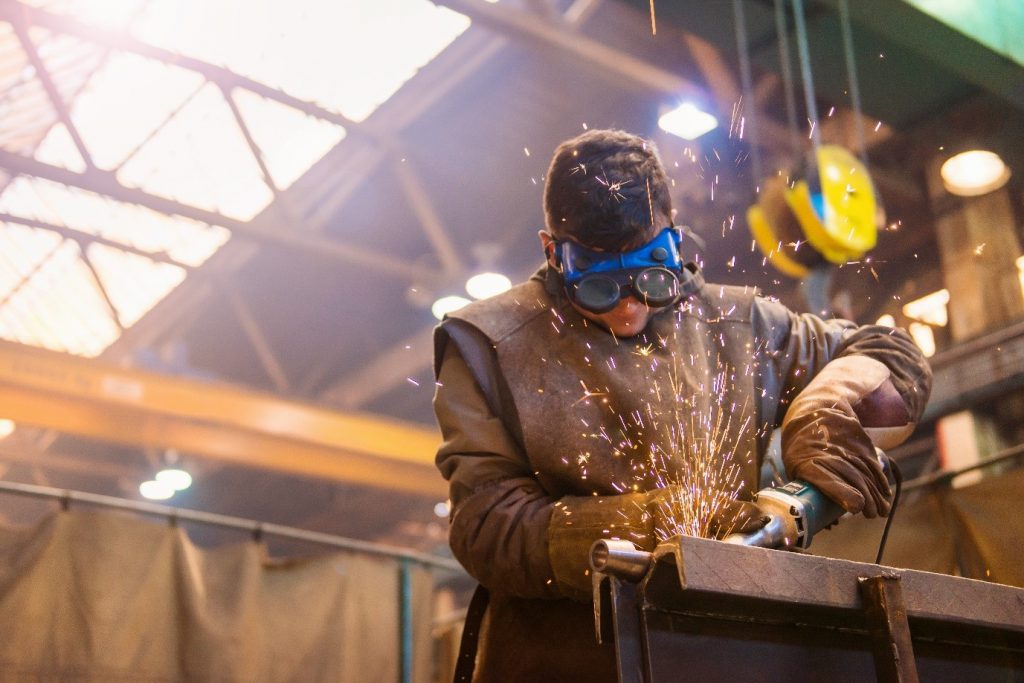 Boilermakers are one of the oldest trades in the construction industry. They are heavily sought after by employers because their skills are unique and not easily taught. If you want to follow a highly rewarding career that will allow you to stand out from other job seekers, an apprenticeship in boilermaking and welding may be the right pathway for you.
What Exactly is a Boiler?
Before we can find out what's it like to be a boilermaker and welder, it is important to understand what a boiler is. Boilers, tanks, and vats are large containers used in buildings, factories, and ships that are used to heat water and other fluids under extreme pressure in order to generate power and heat.
What is the Difference Between a Boilermaker and a Welder?
BOILERMAKER
The work of a boilermaker can be physically challenging since it often takes place in small spaces and extreme temperatures. Boilermakers are often called due to an emergency with a boiler system. Their work can also involve assembling pre-made boilers rather than creating them from scratch, with some pieces requiring metalwork to be installed. Some boilermakers work in water treatment or air treatment facilities and may be tasked with reducing pollution from factories or improving water treatment plants.
WELDER
To bond parts of metal to each other, welders melt the metal, put the parts together and let the metal solidify while holding the pieces together. Welding is used in almost all aspects of manufacturing and used in transportation industries producing ships, automobiles, and aircraft is common. Welders may work outside in poor weather conditions and may also work in small spaces.
Some of the tasks and duties associated with this role are:
Studying blueprints, drawings, and specifications to determine job requirements
Selecting, cleaning and preparing metal stock
Cutting marked-out metal sections and shapes using hand tools, flame cutting torches, and metal cutting machines
Shaping and bending metal sections and pipes using hand and machine tools and by heating and hammering
Aligning parts to be joined using hand tools and measuring instruments
Joining metal sections using various welding techniques, bolting and riveting
Examining welds for width of bead, penetration, and precision
Finishing products by cleaning, polishing, filing and bathing in acidic solutions
Cleaning and smoothing welds by filling, chiselling and grinding
How to Become a Boilermaker and Welder?
To become a certified Boilermaker or Welder, you will need to complete a Certificate III course in Engineering (Fabrication Trade). This qualification takes 4 years to complete and it will equip you with various skills including metal fabrication, forging, structural steel erection, electroplating, metal spinning, metal polishing, sheet metal work, welding, and the use of computer-controlled equipment.
As part of the qualification, you are required to undergo training with a Group Training Organisation (GTO). This is where we can help you. Skill Hire is a GTO that connects you to a Host Employer who will give you practical work experience while studying. To learn more about doing an apprenticeship with Skill Hire, click here.  It is also worth noting that an apprenticeship in Boilermaking and Welding is among the Top 10 Apprenticeships and Traineeships of 2019. To view the complete list, click here.
What Kind of Skills Do You Need to Be a Boilermaker and Welder?
Mechanical Skills

Boilermakers / welders use and maintain a large variety of equipment such as hoists and welding machines

Physical Stamina

Boilermakers / welders must have high endurance because they spend many hours on their feet while lifting heavy boiler components.

Physical Strength

Boilermakers / welders need to be strong enough to move heavy vat components into place

Ability to Work in Confined Spaces

Boilermakers / welders often work inside boilers and vats.
You need to have a ticket to work in confined spaces. If you don't have one, you can undergo training to obtain a Confined Space ticket via Nara Training and Assessing. For more information, click here

Ability to Work at Heights

Some boilermakers / welders need to work at heights. For example, while installing water storage tanks, workers may need to weld tanks several stories above the ground.
You need to have a ticket to Work at Heights. If you don't have one, you can undergo training to obtain a Working at Heights ticket via Nara Training and Assessing. For more information, click here
How Much Can You Earn as a Boilermaker and Welder?
Boilermakers or welders can expect to earn an average salary of $80,132 per year. It is worth noting that due to the high demand for skilled boilermakers and welders in Western Australia, you can expect to earn an average of $130,000 per year in the state.
How is the Labour Market Looking for Boilermakers and Welder?
The number of people working as Boilermakers and Welders grew moderately the past 5 years and is expected to grow over the next 5 years from 78,900 in 2018 to 82,700 by 2023. It is also predicted that the demand for Boilermakers and Welders will come predominantly from the manufacturing industry.
How can Skill Hire Help?
You already know that you can commence a Boilermaker and Welder apprenticeship with Skill Hire but did you know that we are also a recruitment company? Our labour hire division can help find suitable employment for you once you complete your qualifications and training. For more information on how Skill Hire can help you pursue a career as a Boilermaker and Welder, please get in touch with our team on 9376 2800 or visit our website www.skillhire.com.au
K
Skill Hire really helped me to see that I can accomplish something if I set my mind to it and I completed my course 2 months prior to the completion date. Cheers guys!
M
Skill Hire are helpful and professional. Nicola was attentive to all my needs. Their timesheets systems were a breeze and always update us with messages. Thanks Skill Hire
S
I just wanted to thank Skill Hire's EST Trainers. Nathan is the absolute best trainer I've ever had privilege to meet by a WIDE margin and I appreciate everything done for all of us. I'm ecstatic about the internship opportunity.
G
Not only did Skill Hire respond quickly to our urgent need, your team took the time to understand our organization and our needs. The people sent to help out were outstanding and their ability to rapidly adapt to our workplace eased our burden during what was a very challenging few months.
P
My son has thoroughly enjoyed the Construction Pathways course. He spent the last 18 months being home schooled and not socializing with anyone so to see him eager to get up and leave the house every day still blows my mind. Simon, thank you for your understanding and taking extra care with my son.
J
I wanted to say a big thank you to Skill Hire and the team, especially Wayne for such an amazing experience for our students. All of our students were thoroughly engaged with the course and learned many valuable skills.